What is it that makes a great high tea? Is it the promise of fluffy scones with Chantilly cream? Perhaps it's the bottomless cups of tea and bubbly? Or maybe it's the luxurious setting? Let's be honest – it's probably all of the above. But just to be sure, we went and tested some of the best high teas in Brisbane 😉 Here are our top picks.
At the Sofitel, high tea is an important daily ritual held in two exquisite locations – the Sofitel Club Lounge on the 30th floor and the Cuvee Lounge Bar next to the lobby.
My guest and I take the lift up to level 30 and are led to a table next to massive windows with fantastic views of Spring Hill and beyond. It's a (typically Brisbane) sunny winters day and the warm light streaming in makes it very easy to settle in for the afternoon. It's an intimate setting, while the Cuvee Lounge Bar is bustling and buzzing.
We're immediately given glasses of sparkling Mumm Cordon Rouge, then our waiter explains the expansive tea menu. He recommends a brew that blends blood orange and eucalyptus, which we decide to sample later.
For me, there are a few essentials for any good high tea experience. The first is the tiered stand. While a buffet is great (and has obvious advantages 😉), three tiers of high-tea decadence is truly special. At the Sofitel, we get one three-tiered stand each. What a treat!
First up is the bottom tier, which offers ribbon sandwiches and a tiny, delicious savoury tart. Bonus points to the Sofitel team for giving me pregnancy-friendly option without me even having to ask.
The second tier holds a high-tea classic: fresh, warm scones served with jam, marmalade and Chantilly cream. Scones can be horribly boring if they're not well-made, but for the connoisseurs out there, I've got good news – the Sofitel's scones are light and fluffy on the inside and golden on the outside. Tick!
At the top, the third tier serves up a picture-perfect selection of petite desserts, which we wash down with a couple of plungers of that blood orange and eucalyptus tea. My favourite is the mango and raspberry mousse with chocolate shards – yum!
High tea at the Sofitel starts at $48 per person. We splash out on the Enchanting High Tea option for $66 per person, which includes the glass of Mumm Cordon Rouge that we enjoyed at the start.
High tea at Sofitel Brisbane Central is available 11am – 3 pm every day in the Club Sofitel Lounge and 11 am – 4 pm every day in the Cuvee Lounge Bar.
Why Lauren loves it
I adore how familiar and traditional the Sofitel's high tea experience feels, as well as the modern touches (and the very skilled pastry chef) that keep it fresh. There's no daggy floral crockery in sight!
Smack bang in the centre of the CBD, the Hilton Brisbane gets bonus points for its central location and its elevator that goes from the lobby direct to the Queen St Mall (the heart of Brisbane shopping). That makes a Hilton high tea a great option for a post-shopping-splurge veg-out (read: tasty treats and a glass of Chandon).
Hilton Brisbane's high tea is hosted in Vintaged, the hotel's lobby bar. And while you're just metres from more stores than your credit card can handle (trust my wife on this one), it's a surprisingly calm oasis, with an impressive 83-metre atrium to light up the modern lounge space. The service is bang-on, with enough attention and recommendations to be helpful without encroaching, but let's cut to the real star – the three tiers of delicious high-tea goodness.
We work our way through salmon pinwheels and zingy leg ham and ricotta croissants before moving on to the desserts. While it's tough to beat classics like macarons and cakes, we particular enjoy the fruity treats, which pair nicely with our chosen tea (Darjeeling). Our favourites are the passionfruit meringue tart, and the mango, coconut and basil Verrine – both shining examples of Queensland's tropical flavours.
High tea at Hilton Brisbane is available 2 – 4pm every Sunday. Price start at $45 per person.
Why Zack loves it
A super-value offering that leaves tastebuds more than satisfied, the Hilton High Tea is a great way to top off an extravagant shopping spree or just unwind on a lazy Sunday. The icing on the cake (both figuratively and literally) is that each treat is served in pairs, making them easy to share without any sacrifice.
Miniature sandwiches, champagne, perfectly balanced trays of sweet and savoury treats – what's not to love about high tea?
Served at Rydges South Bank's luxe Bacchus restaurant, the Quintessential High Tea is $42 per person, or you can upgrade to enjoy a glass of sparkling wine or champagne as well for an additional cost ($57 to $93 per person depending on your choice). Whichever option you choose, your tastebuds will reward your investment.
The Quintessential High Tea's prime location and special-occasion vibes make it a superb experience for both locals and visitors, whether you're splurging on some fancy snacks before a show at QPAC or throwing a bridal shower for your bestie. Or just treating yourself for no absolutely no reason at all, like we are 😉
Our three tiers of tasty treats are all beautifully presented and seriously delicious. But our foodie highlights are the freshly baked scones with Bonne Maman Raspberry Conserve, the tiny black brioche buns with chicken and celery, and the amazing passionfruit meringue tartlets. So good!
Of course, it wouldn't be high tea without something to sip on. The beverage options are perfectly paired to the food, with a wide range of Harney and Sons fine teas to choose from. Champagne options include Chandon Sparkling, Moët Champagne, and Dom Pérignon for those extra special events (or just an indulgent Saturday). If cocktails are more your thing, try the Bellini or the Bacchus Iced Tea – highly recommended for gin lovers!
Once you've had your fill of tiny treats, take the party outside to the Soleil rooftop pool bar and soak up some sun (or indulge in one more glass of sparkling). Or wander over to Brisbane's Cultural Centre, South Bank cinemas, or Fish Lane (arguably one of Brisbane's coolest laneways for restaurants and bars), all of which are just a short stroll away.
Why Amy & Keryn love it
With Bacchus's delicate bone china, attentive staff, and elegant decor, you can't help but feel a little bit like a VIP. We'll definitely be back!
My best friend and I wrap up our morning's shopping and head for high tea at The Lab, just a stone's throw from Queen St Mall. It's sale season and all that bargain hunting has got both our tummies grumbling. On the way, my friend assures me that her British upbringing makes her an expert in picking out a good cucumber sandwich.
The historic hotel is extremely welcoming, with our host, Christina, ready and excited to seat us. As we're walking towards our table, I can't help but smile at the groups already seated. There are mothers and sons, a long table of ladies having some sort of celebration, and lots of old friends catching up. We take our seats by the window (perfect for people-watching!) and are offered the choice of a standard high tea ($45 per person) or the Chandon High Tea ($59 per person). We each opt for the latter, which includes two hours of unlimited sparkling and an impressive La Maison Du Thé French tea selection.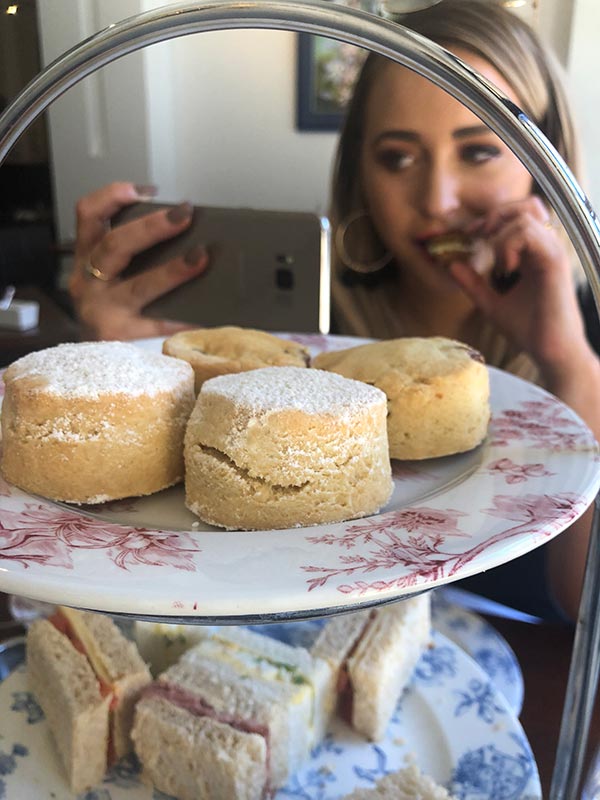 Our tower arrives and our mouths drop. Normally a savoury person myself, I am shocked by the connection I've made with the fruit tart. My bestie finds the cucumber sandwich and confirms it's one of best she's ever eaten, while I continue to stun myself by heading straight for the scones (who am I?!). They're without a doubt the tastiest I've ever had and the accompanying vanilla bean cream absolutely makes them my favorite bite of the day.
We work our way through the roast beef sandwiches, frittatas, macaroons, and more, until we finally complete our tower with triumph and delight. In between sips of Chandon and Darjeeling tea, we begin planning our next visit to this Brisbane institution.
Why Allyvia loves it
Any high tea that can turn me into a sweet tooth is a winner! The Lab knocks it out of the park for both sweet and savoury, which means it has tasty treats to suit all palates.
All dressed up in my best floral outfit and ready channel my inner high-tea connoisseur, my sweet-toothed partner and I head to Four Points by Sheraton to sample their delicious, tiny treats. The hotel might be located on Brisbane's busy inner-city Mary Street, but at Sazerac Bar on level 30, high above the hustle and bustle below, the real world feels very far away.
On the rooftop, we're met by welcoming staff and taken to an intimate room with stellar views across the city. We people-watch while swimmers take dips in the lap pool to our left and spy on the tiny cars swirling around the inner-city streets. But none of that matters now, because high tea awaits!
As we sip our bubbly and English Breakfast tea (I have the former… cheers!), a three-tiered display of sweet and savoury goodies arrives at our table. From chicken and asparagus vol-au-vents to sour raspberry macaroons, we happily indulge in each and every one of the petite morsels until there's nothing but crumbs left on our plates. Hey, it'd be wrong to waste such deliciousness!
The fluffy scones with strawberry and champagne jam and fresh cream are an absolute dream. If you manage to get the secret recipe out of the executive chef Ambrose Andrews, please let me know, because when I ask about it, all he says is that they're an old family recipe. Until we can make them ourselves, my partner and I will have no choice but to keep going back for more high teas 😉
High tea at Sazerac Bar starts at $39 per person. If you're feeling especially indulgent (like me), opt for the sparkling high tea for $49 per person, or the Mumm Cordon Rouge Brut high tea for $59 per person. Whichever you choose, you're in for a treat!
Why Sarah loves it
The view is wonderful and Sazerac Bar is intimate and chic. The open Rueben sandwiches are DELISH, with fresh rye bread, pickled cabbage, corned beef, Swiss cheese, and cornichon. And you can't go past the whiskey maple pecan tartlet with whipped cream. YUM!