Here's the deal. We know that 67%**of Aussies view a local holiday as an opportunity to reinvest in the local economy and support regional communities. We do too, so we wanted to give you some AUS-spiration to help you get out there and see the best that this great nation has to offer.
So, we asked you which Aussie towns served up the most iconic and unique 'Aussie' experiences… and you delivered. More than 1,400 of you voted for your favourite destinations for wine sipping, kangaroo spotting, pub hopping, and more. Check out the winners* below.
WA's Margaret River Region beat all the usual suspects – including the Hunter Valley in NSW and the Barossa in SA. Accounting for 20% of Australia's premium wines**, the Margaret River Region is full of top wineries, including Evans & Tate, Cape Mantelle, and Vasse Felix. Make sure you go beyond the cellar door and explore the vineyards, as many wineries offer meet-and-greets with winemakers, lunches in barrel rooms, and sometimes even the opportunity to create your own blend (yum!). Visit in the second half of the year (July-November) if you want to catch a glimpse of humpback and southern right whales migrating along the West Australian coast.
For a place to rest your head (and/or sleep it off 😉), we recommend Vintages Accommodation and Darby Park Serviced Residences.
If you want a holiday to get your adrenaline pumping, head to Cairns. With 76% of Aussie travellers saying they use holidays to try things they'd never do at home**, Cairns offers something for everybody, along with easy access to the Daintree Rainforest and the Great Barrier Reef. From zip-lining over a four-metre live croc (fittingly named Goliath), to bungee jumping with thrill seeker AJ Hackett (who once jumped off the 110m Eiffel Tower), there are endless adventures in the Tropical North.
When it's time to call it a day, stay at The Abbott Boutique Hotel, Shangri-La Hotel, The Marina or Pullman Cairns International.
A good Aussie pub can become the heart of a small town – a place where important conversations are had, where anything (and everything) is celebrated, and lifelong friendships are cemented over a few cold ones. Australia's self-proclaimed 'Original Beer Capital', Ballarat (or #Beerllarat) is only an hour from Melbourne and ideal for a quick weekend getaway. Many of its pubs first opened their doors during the Gold Rush, over 150 years ago, which means they've had plenty of time to master the art of hearty meals and good beer. Ballarat is also home to the annual Ballarat Beer Festival, which showcases more than 150 craft beers, as well as live music and local food trucks.
For a place to stay, check out The Provincial Ballarat, Craig's Royal Hotel or Quest Ballarat.
Australia is a veritable fruit bowl of fresh produce, with our farmers harvesting some of the tastiest fruit and veg in the world. Not surprisingly, fruit-picking has become a bit of a national pastime – because nothing's better than biting into fresh, juicy fruit, straight from the orchard.
While there were many contenders for the title of "Top Fruit-Picking Town", Mildura was our voters' clear favourite. As a major horticultural centre, it's an oasis of orchards and market gardens, and responsible for a whopping 75% of Australia's table grapes** (wow!). Mildura's other foodie delights include Murray cod, Mallee lamb, and – every home chef's favourite – Murray River Salt.
After a big day of eating, stay at Indulge Apartments – Ontario or Mildura Inlander Resort.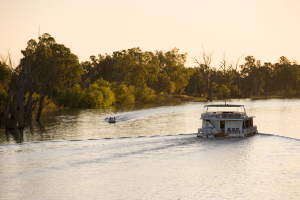 Hopping into first place as the best town to come face to fur with a kangaroo is Kingscote on Kangaroo Island. As the island's name suggests, if you spend some time here, you're bound to see some roos – perhaps bouncing in the lush wilderness or sunbaking on a secluded beach. As Kangaroo Island's largest town, Kingscote is home to many of the island's cafés, restaurants, and hotels.
But there's more to Kangaroo Island than just Skippy and her mates. More than a third of Kangaroo Island's landmass is reserved for wildlife conservation areas and national parks. As a result, it's home to more than 1,500 different types of animals, including kangaroos (of course), wombats, and koalas. If you're lucky, you might even spot a penguin.
For a rest after roo-spotting, head to Villas on the Bay Kingscote or Kangaroo Island Bayview Villas.
Is there a more iconic Australian food than the humble lamington? Next to Vegemite and Pavlova, it is a true Aussie culinary icon.
It's hard to believe that something so yummy may have been invented by accident. One story claims the lamington was born when a maid of Lord Lamington – the British Governor of Queensland (1896 to 1901) – dropped some pieces of sponge cake into chocolate icing, then covered them in coconut to prevent sticky fingers (and disguise her mistake).
While many towns (and even New Zealand) claim to have invented this spongy delight, Beechworth, Victoria, was voted as having the nation's best. But where to find to find the best lammo in town? Beechworth Bakery serves up a classic version (with or without cream), as well as the grand 'Dame Edna' – a pale pink raspberry-flavoured version. Perfect for foodie getaways, Beechworth is also home to fabulous food, wine, and beer. It's also one of Australia's finest historic gold-mining towns.
Recover from your sweet-food coma with a night at Finches of Beechworth or The Graces Beechworth.
Sources:
*Wotif's Top Six Uniquely Australian Towns are based on responses from more than 1,400 Australians. A shortlist of 10 destinations under each category was created by Wotif. com and Australians voted for the category winners via  www.wotif.com/vc/blog from 3 January 2018 to 8 January 2018.
**Wotif's Australian Travel Research
The Leading Edge were engaged by Wotif to conduct research into understanding Australian travellers. The study was conducted August – September 2017 and consisted of two components:  1. Online Community of n=40 Australian travellers 2. Online Survey completed by a nationally representative sample of n=1,036 Australian travellers (who had all travelled and stayed in paid accommodation in the last two years as part of leisure holidays).
The survey was conducted online among members of a permission- based panel, between 23-29 August 2017. After interviewing, data was weighted to the latest population estimates sourced from the Australian Bureau of Statistics. Data was weighted to National Representative proportions to reflect the age, gender, and residential location of Australian travellers.