The Land of the Long White Cloud might not be huge geographically speaking, but it sure crams plenty to do inside its borders. This makes NZ perfect for road trips, with everything from quick adventures along the coast to week-long treks from the North to the South. Here are five of our faves.
1. New Zealand Wine Trail
Five-day drive from Hawke's Bay to Marlborough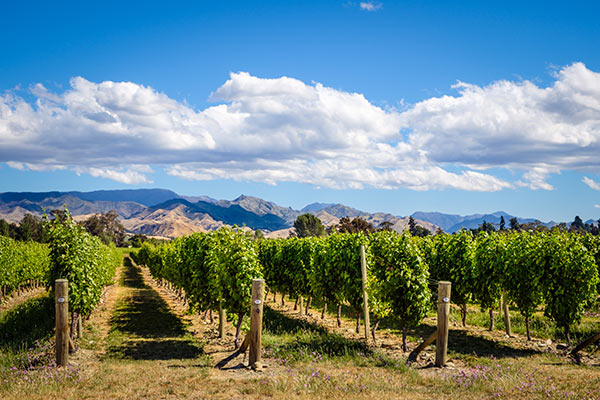 NZ is famous for its exceptional wine, so why not sip your way down the country on this spectacular tour? With a designated driver, of course 😇
Journey from Hawke's Bay in the North Island to Marlborough in the South Island with pit stops in Wairarapa and Wellington along the way. It's along this route that you can sample some of the best wines New Zealand has to offer.
Where to stay: The Marlborough Lodge is a stone's throw from Hunter's Winery and St Clair Winery and offers luxury accommodation – perfect for unwinding after a long journey.
2. Auckland to Wellington volcano tour
Five-day trip from Auckland to Wellington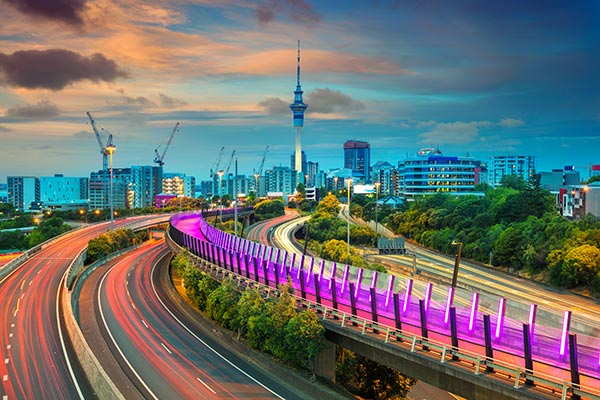 NZ's volcanic heart offers many wonders to explore, such as the Waitomo Caves and Rotorua's spectacular geothermal attractions and Māori cultural experiences.
Auckland alone is surrounded by 48 extinct volcanic cones. This means there are plenty of cave systems to explore, so stock up on your energy!
Where to stay: If you are looking for a five-star hotel that won't break the bank, the InterContinental Wellington offers the perfect place to rest up after all that spelunking.
3. Bay of Islands Loop
455km drive from Auckland
For the time-pressed, the Bay of Islands Loop gives you the chance to soak up some of New Zealand's best sights in under a day. Spot dolphins in the Bay of Islands, stop for a glass of vino at one of Waiheke Island's vineyards (a 30-minute ferry ride from Auckland) and explore North Island's spectacular beaches.
Where to stay: There are plenty of hotel options in Auckland, with the Hilton and Stamford Plaza offering five-star experiences. But if you want a seriously luxurious stay, opt for the Delamore Lodge on Waiheke Island for lush ocean views and more time at the winery.
4. Christchurch to Queenstown
480km one-way drive
Another great drive that packs plenty of bang for your buck. Technically this drive can be done in six hours – but that defeats the point. Take your time to explore Lake Tekapo, Aoraki Mount Cook National Park and other iconic sites. Eat fresh local produce, hike scenic trails, and learn some history at spots like the Sir Edmund Hillary Alpine Centre.
Where to stay: Peppers Bluewater Resort is a fantastic stay at Lake Tekapo – the perfect spot to spend some extra time.
5. Te Anau to Milford Sound Highway
240km drive
Sure, you could join a cruise and reach Milford Sound by boat. But it's also a great drive, with plenty of views you might otherwise miss out on. Te Anau Downs is early in the trip and definitely worth stopping the car for, with walking tracks first created in 1888 by Quentin McKinnon. Then it's time to fire up your Instagram at Mirror Lakes, where the mountains are literally reflected on the water's glass-like surface. Check out Knobs Flat, the pools and waterfalls of Cascade Creek, Hollyford Valley Lookout, Homer Tunnel, The Chasm, and Mount Tutoko – all sights you'd miss if you went by boat.
Where to stay: Te Anau is one of the best places to rest your boots in New Zealand, with four-star hotels like Distinction Luxmore and family venues like Te Anua Top 10 Holiday Park offering great stays at top rates.
PLAN YOUR NEW ZEALAND ROAD TRIP