I never thought I'd be the type of person to use my valuable annual leave on a health retreat.
Holidays are for cocktails, eating whatever you want and throwing your usual routine out the window, right?
My new answer to that question: Sometimes.
When you and your partner are a little (okay, a lot) burnt out and decide to take a last-minute trip to recharge your batteries, let me tell you, a health retreat in Bali suddenly has a whole lot of extra appeal.
Especially when you find yourself at COMO Shambhala Estate. Located just outside of wellness hub Ubud, I feel like a new woman after just a three-night stay. Not convinced? Allow me to give you 15 reasons you why a stay here is the stuff of holiday dreams.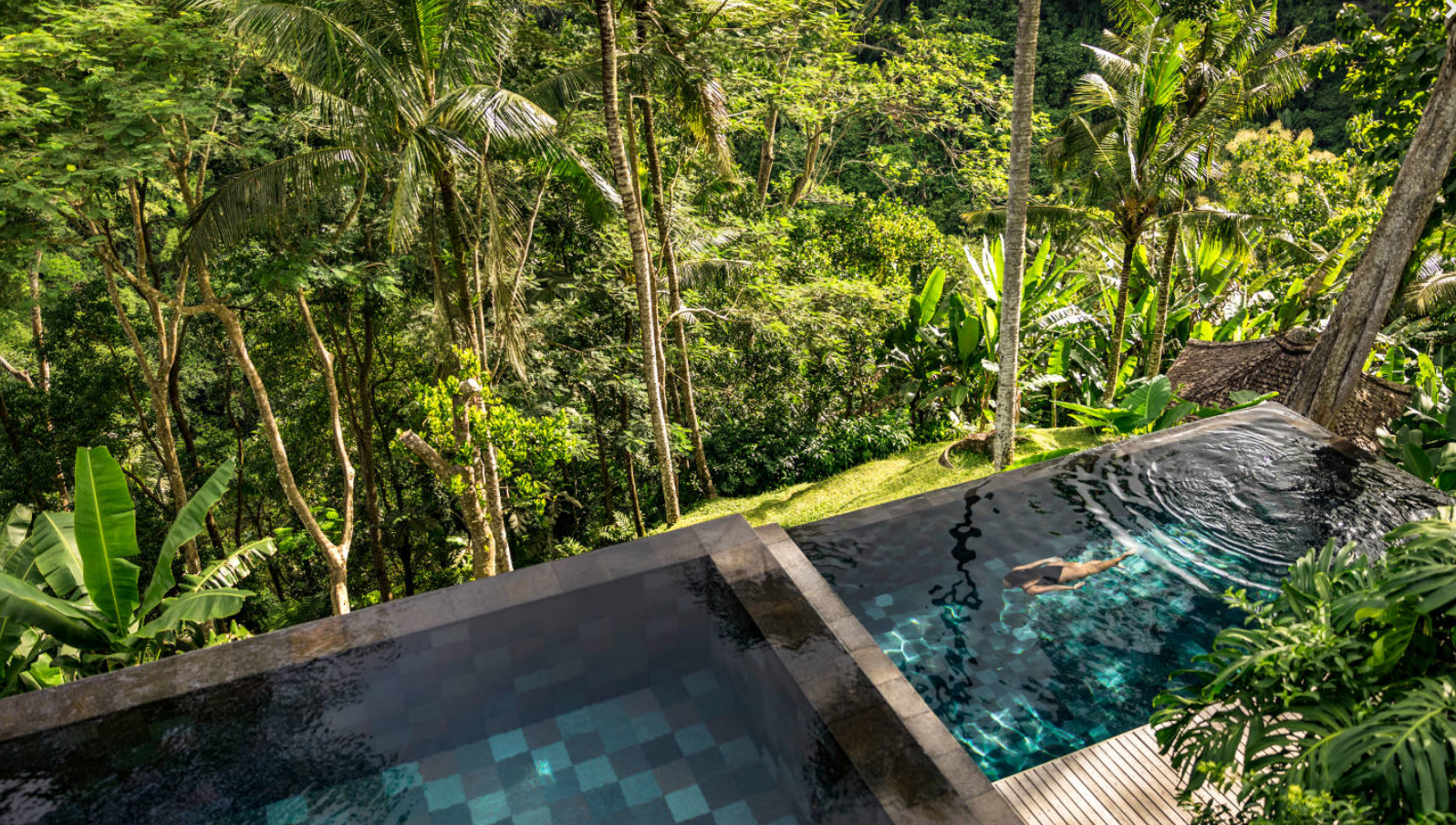 1. It's not a hardcore retreat: If you're conjuring up images of days with no alcohol or coffee, boring food and phone bans, you're in the wrong place. COMO Shambhala is a great introduction to the retreat world.
2. Tailored programs to suit your needs: While you don't need to commit to a wellness program to book here, it's a great way to get the most out of your stay and also great value. I select the 'Bespoke' program, which includes a consultation with a wellness expert. He's incredibly knowledgeable and it's quite a therapeutic experience in itself, reflecting on your current health and wellness with a (health professional!) stranger. His treatment plan and recommendations help inform my stay and I follow his encouragement to go alcohol-free for my three days here, surprising even myself!
3. The ginger tea: Arriving very late at night Sydney time, feeling a little dishevelled, the signature COMO ginger, lemon and honey tea on arrival could be my new favourite beverage. The team give me the recipe, which is a lovely touch! The air-con airport transfer, complete with healthy cookies and nut snacks, also wins my heart.
4. An infinity pool right outside your room: As you can tell, we're pretty happy about this inclusion. There's also a main pool if you prefer something bigger. It's all about options here.
5. Spectacular grounds and facilities: If rolling green hills, a jungle backdrop, and manicured gardens aren't your thing, best look away because the COMO has them in spades. The design is minimal yet quietly luxe, letting the natural surroundings take centre stage.
6. One of the best day spas I've ever experienced: The program includes one wellness treatment per day, which is an absolute luxury and the perfect way to unwind. The Taksu massage – designed to increase blood circulation – is incredible, I have my first foray into acupuncture (weird but interesting!) and I try a hot river stone massage, which is relaxation heaven.
7. A daily wellness schedule: From yoga in the most beautiful huts overlooking the jungle to sacred spring walks, from wellness talks to meditation, there's something for everyone on the daily activities list, with different things to do every day across a seven-day calendar. The only drawback is if you're not staying a week, you risk FOMO for the ones you miss!
8. Gym with a view: The small but well-equipped-for-cardio gyms ticks the boxes, but what makes it extra memorable are the monkey visitors that drop by the windows early every morning! They definitely make treadmill running more interesting.
9. An incredible suite: The best thing about arriving at a resort after dark is the moment of truth when you open your curtains in the light of day to reveal your home away from home in all its glory. I don't want to give too much away because it's worth the surprise, but you won't be disappointed. Each room is different but all are styled beautifully, set high amid the jungle. If those nature sounds don't relax you, nothing will!
10. A wow-factor bathroom: Yes, this is worthy of its own point. We check in well after midnight and love our room. While the toilet is situated within the suite, we realise we haven't seen our shower yet. A quick stroll out our back balcony door, down the stairs, and along a stone path leads us to a grand door, which opens to reveal an epic shower and bath set-up (that's possibly bigger than my apartment). Chill-time soaking in the bath here is bliss.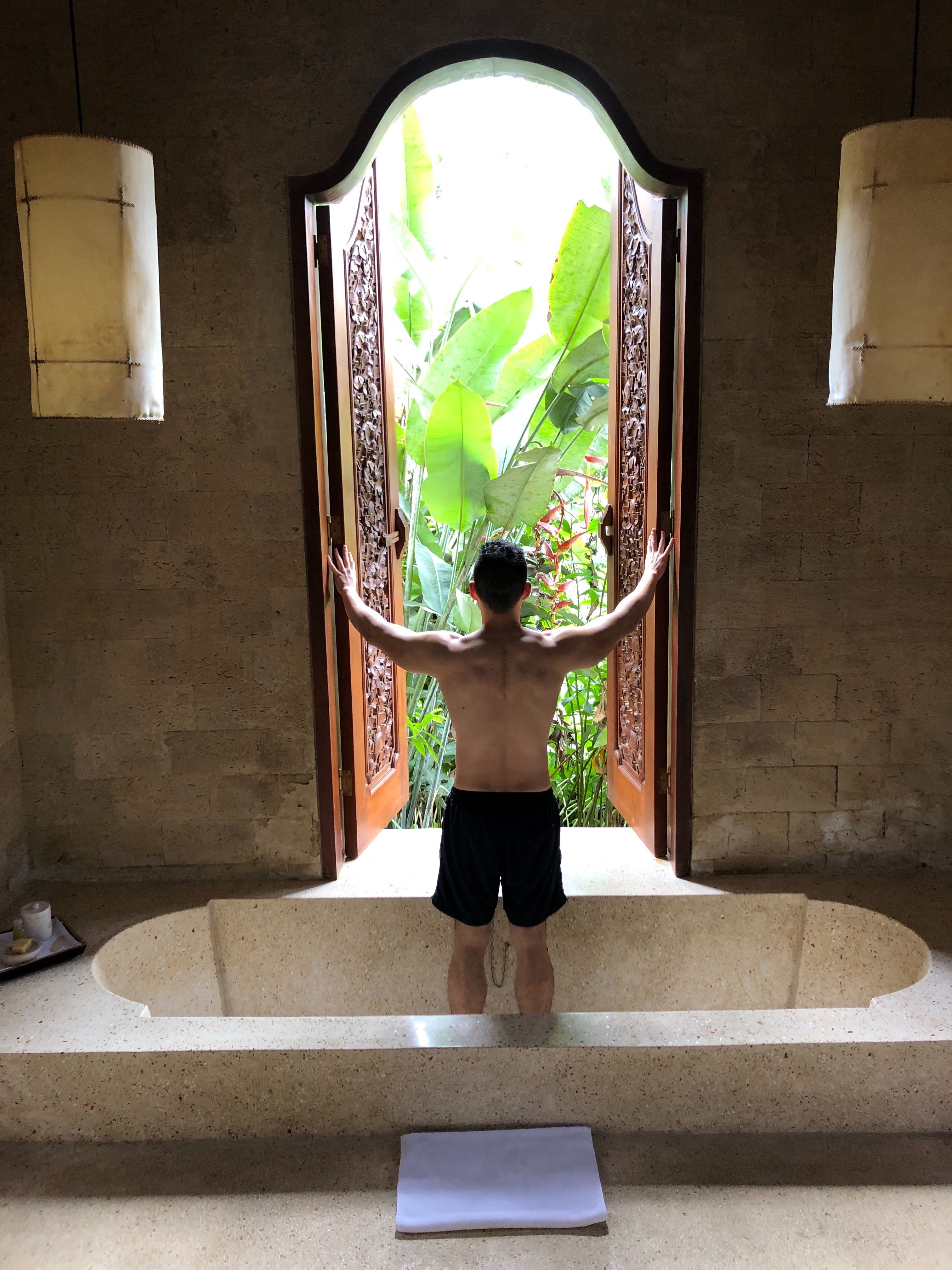 11. I-can't-believe-healthy-food-can-taste-this-good cuisine: Eating and travelling are two of my greatest loves, especially together! So bland retreat food was a potential fear of mine, but luckily we're in very good hands with COMO Shambhala. Each dish we sample is not only delicious but nutritious. Favourites include the jicama, pine nut, and tofu maki rolls with shitakes, the cucumber with wasabi tofu dipping sauce, and the grilled mahi mahi with cucumber and melon gazpacho, heirloom tomatoes and olives. The food is so good, COMO even has its very own hardcover cookbook, which I purchase as a gift for my future self 😉 Oh and breakfast is divine too! Experiencing jackfruit for the first time is life-changing and the seeded avocado toast is worth getting out of bed for.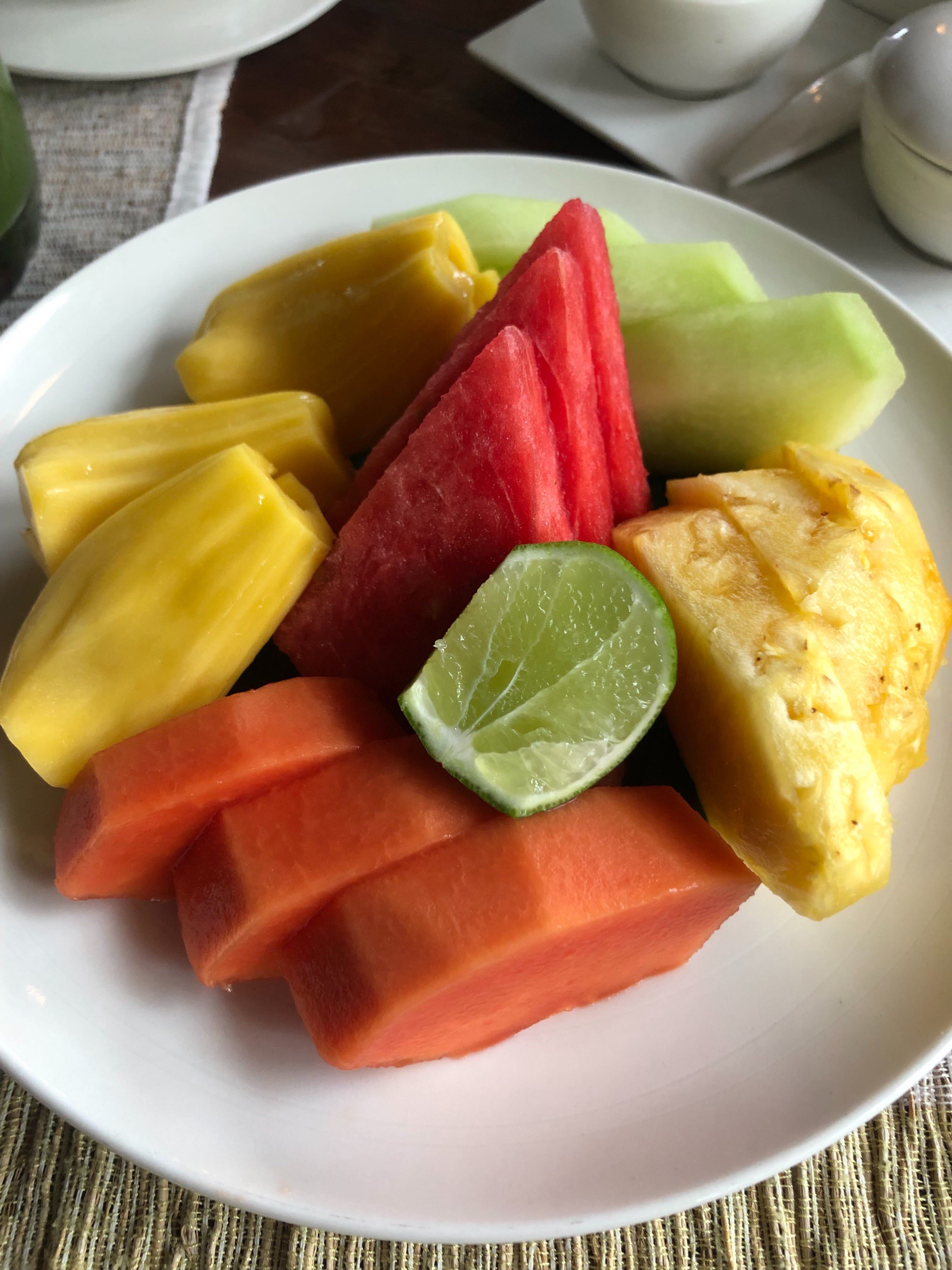 12. Sunday brunch: Insider tip – time your stay for a Sunday so you get to experience the excellent Sunday brunch menu. For less than $60AUD, you can order as much as you like, with dishes including lobster, chicken and spinach shao mai dumplings with black vinegar, chilli oil and coriander, mud crab in fragrant coconut, sambal sauce with bean sprouts and Asian herbs, and Chinese steamed buns with spiced smoked duck, Szechwan pickled cucumber, shitakes and orange-scented hoisin sauce. It's served from 11am to 2.30pm, so settle in and consider it breakfast and lunch in one.
13. Your own personal assistant: Oh, to have Dudik in our Sydney life! He is an absolute dream, not only helping us navigate the daily schedules and make arrangements, but also picking us up in a buggy and accompanying us to activities to keep us on track. There's the little things too, like putting an extra flask of ginger tea in my room to enjoy after dinner.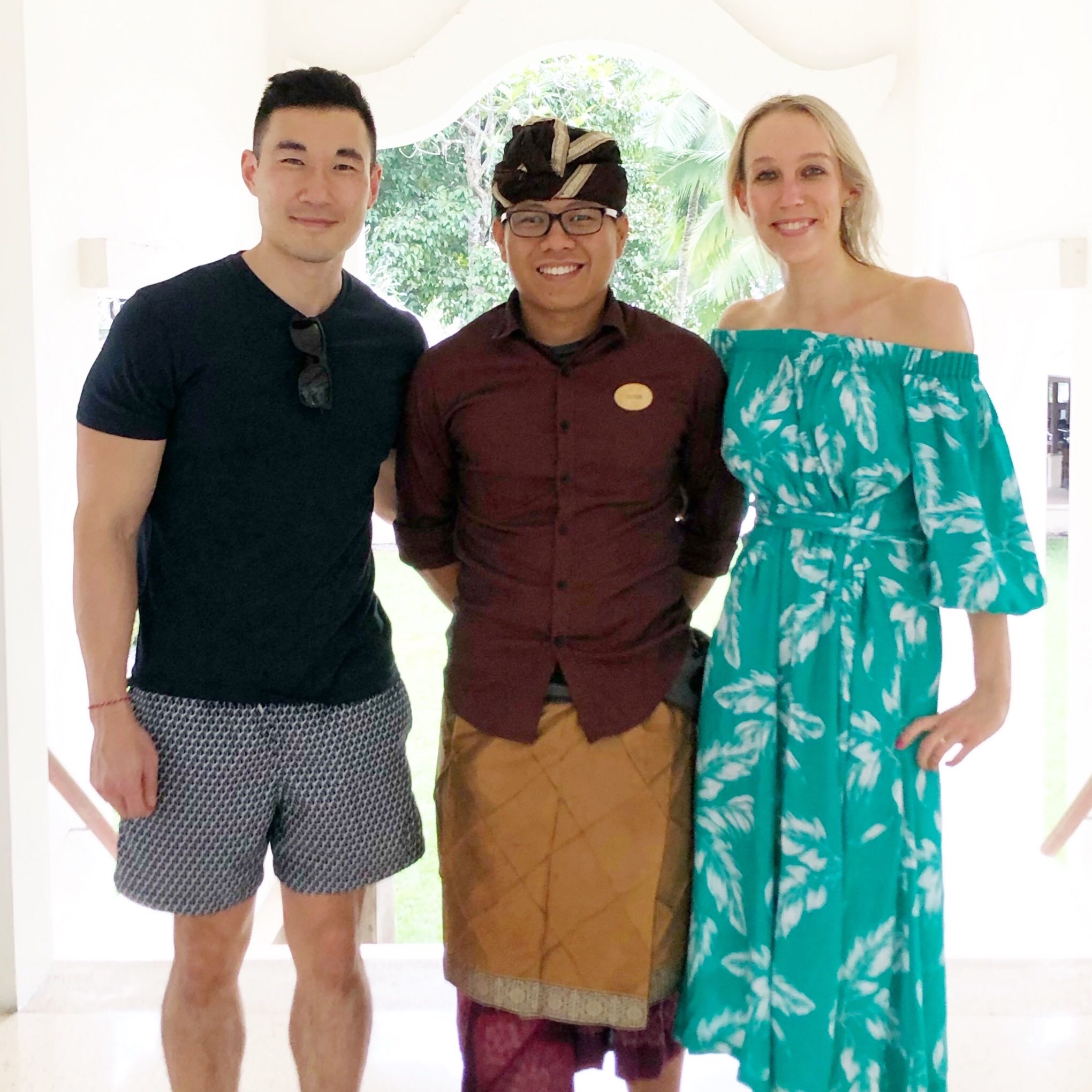 14. Memorable experiences: Learning about the cultures of other countries is one of the best things about travelling, so we couldn't pass up the unique opportunity to partake in one of COMO Shambhala Estate's many cultural activities (note: There are additional costs associated with these). The Water Spring Blessing sees us dress in Balinese attire before being guided through chants and offerings by a local priest. The ceremony takes place near an ancient spring of rejuvenating holy water, and once complete we are considered new and clean in mind and soul. It's pretty powerful and something I highly recommend if you get the opportunity.
15. Spring swims: Post-ceremony, we make our way to the on-site natural springs, one of just eight in Bali. Just when we thought COMO Shambhala couldn't be any more idyllic, this little haven makes it even more incredible.
COMO Shambhala Estate is the health retreat you need in your life. I'm already trying to justify a return visit. Take me with you when you go, would you? 😉
Nic stayed as a guest of COMO Shambhala Estate but all opinions remain her own.
STAY AT COMO SHAMBHALA ESTATE
CHECK OUT MORE BALI STAYS