If you're travelling to Adelaide soon, the Mayfair Hotel is THE place to rest your head for the night. Here are 18 reasons why.
1. It's highly recommended. With a 4.8-out-of-5 rating from verified Wotif travellers, you can rest easy knowing this 13-storey, 170-room hotel is a proven crowd-pleaser.
2. Old meets new. Opened in 2015, the Mayfair is situated in a heritage building, which gives the young hotel a modern yet classic appeal.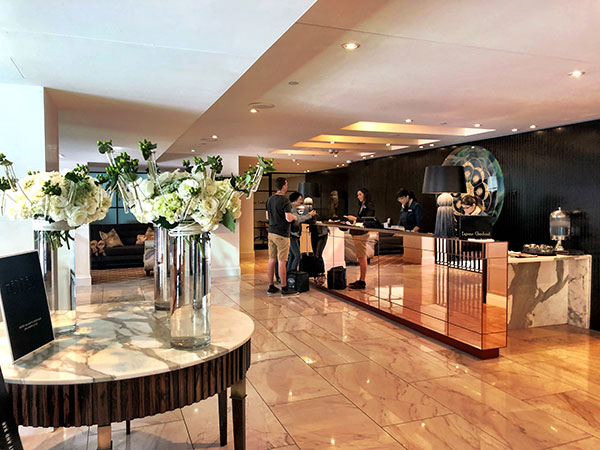 3. Location-location. Positioned on Adelaide's busiest drag, King William Street, you'll be perfectly situated to enjoy the city's cultural and sporting precincts, or do your thing on a business trip.
4. A sweet welcome. Nothing says 'holidays' like dessert on arrival.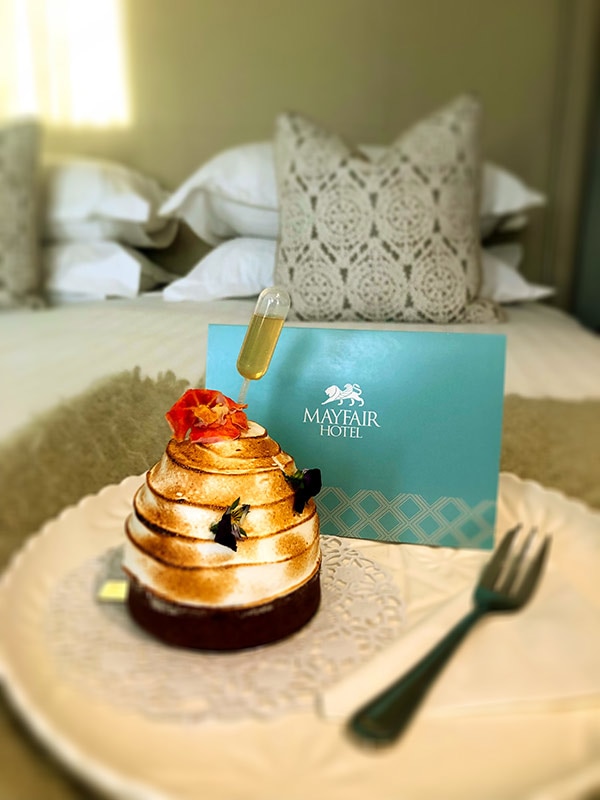 5. Spacious rooms with character. Hotel rooms can often look and feel the same, but the Mayfair has its own vibe that's best described as elegant sophistication with a modern twist. Five-star touches like an espresso machine and luxury toiletries are definite wins. The bathroom feature lights are almost worthy of their own point.
6. A complimentary mini-bar (excluding wine). Enough said.
7. A great night's sleep. Some big hotels can be noisy, but our top floor room at the Mayfair is whisper-quiet and I fall a little bit in love with the comfy king bed.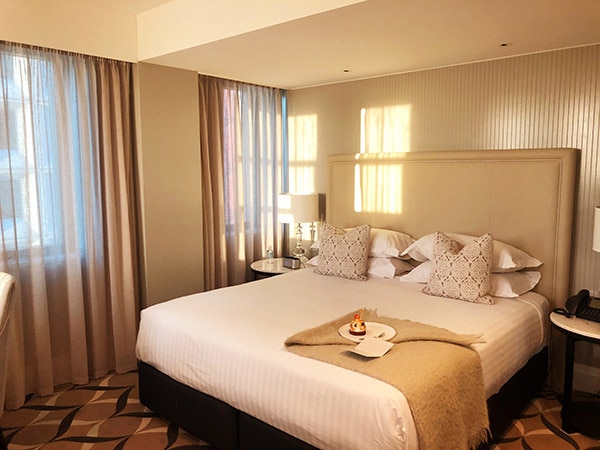 8. The Hennessy Rooftop Bar. Who needs New York when you have Adelaide? The Hennessy Rooftop bar captures the city's magic from high above and the cocktails don't disappoint. Bonus points too for the fancy glassware.
9. Close proximity to hot eating spots. Following our rooftop bar venture, we stroll five minutes to Press* Food and Wine and feast on delicious share plates and local South Australian wines.
10. Free wi-fi. Still not a given in Australia, so always worthy of a shout-out.
11. An SA icon just across the road. Walk out of the hotel's stylish lobby and you'll immediately meet with a chocolate lover's dream: the Haigh's Chocolates flagship store, right on the corner.
12. Rundle Mall on your doorstep too. Haigh's deserved its own point. Because Chocolate. But it's part of Adelaide's best-known shopping strip, Rundle Mall, where all your retail therapy needs will be well looked after.
13. A GREAT hotel brekky. Buffet breakfasts can be hit-and-miss, but the Mayfair offering is a winner. The staff are really accommodating too – eager to assist with any dietary requirements – which is always a bonus first thing in the morning.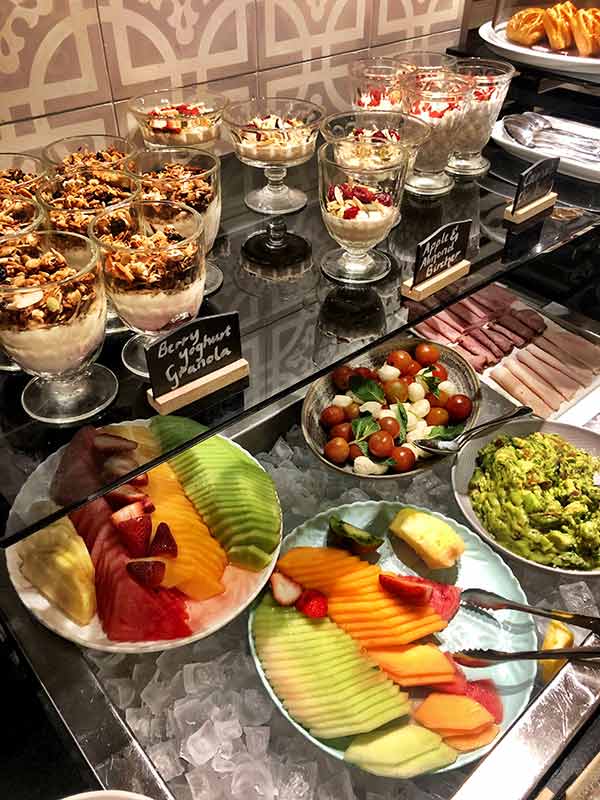 14. The Mayfair has its own honey, which is produced by hives kept on the rooftop. Fancy!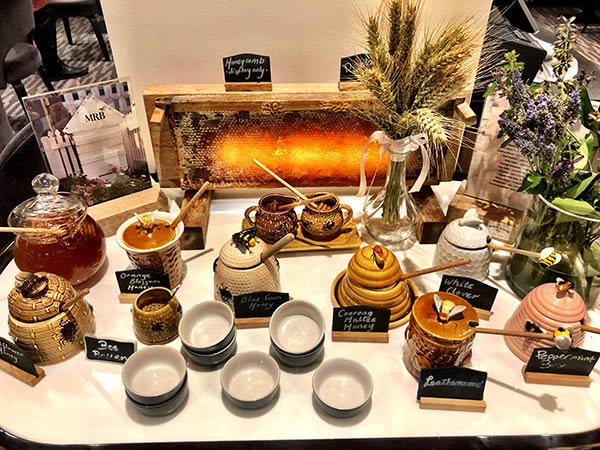 15. An onsite gym. It's only tiny, but for all you fitness fans, the level two gymnasium has all the basics to help you work up a sweat, including two treadmills and hand weights.
16. It's great for runners too. If getting out into the great outdoors is more your exercise style, take a stroll or run by the river – just a 10-minute walk away.
17. Easy parking options. If you're feeling fancy, the Mayfair offers valet parking for $40 per day. There's also self-parking at the Wilson Carpark across the road for $24 per day.
18. An 11am check-out. I love a hotel that understands 10am is way too early to have yourself together when you're on holidays 😉
My stay might have been for one-night only, but it won't be my last night at the Mayfair Hotel. Make sure you check it out next time you're in Adelaide!
Nicole stayed as a guest of the Mayfair Hotel, but all opinions are her own.
STAY AT THE MAYFAIR HOTEL
CHECK OUT MORE ADELAIDE HOTELS