Australia has plenty of gorgeous natural wonders. Uluru, the Great Barrier Reef, the Great Dividing Range – the list goes on. But what about the wonders you haven't heard about? Explore a little bit and you'll find Australia is home to even more incredible sites than you realised. Here are ten of our faves.
1. Lawn Hill Gorge
Boodjamulla National Park, QLD
Boodjamulla (Lawn Hill) National Park sits on the border of Queensland and the Northern Territory. Not many people had heard of it until Crocodile Dundee showed it off in his 2018 Tourism Australia Super Bowl ad. With its red sandstone cliff walls and emerald green rivers, its beauty is undeniable.
Stay nearby: Boodjamulla National Park.
2. Undara Lava Tubes
Mount Surprise, QLD
Drive four hours west from Cairns and you'll discover an incredible volcanic marvel – the Undara Lava Tubes. It's reported to be one of the longest lava tubes in the world and you can explore it by day, by night (when the wildlife come out to play) and even by air with a helicopter tour. Visit in April to check out the Outback Rock and Blues Festival as well, or October for Opera in the Outback.
Stay nearby: Lizard Island Resort.
3. The Lost City
Litchfield National Park, NT
We all know about Uluru, but the Red Centre isn't the only place in the NT with gorgeous rock formations. The Southern Lost City and the Western Lost City are named for their pillars of sandstone, which look like the ruins of ancient temples. There's also plenty of fantastic swimming, fishing, boating, bushwalking and four-wheel-driving to do, making Litchfield one of Australia's must-visit national parks.
Stay nearby: Lake Bennett Resort.
4. Sawn Rocks
Narrabri, NSW
Sawn Rocks' unbelievable cliff faces are often compared to organ pipes – and when you see them, you'll know why. Crafted by nature, they're a reminder of Mount Kaputar's volcanic past. The Sawn Rocks walking track is an easy hike, so beginners and experts can enjoy the experience together.
Stay nearby: MAS Country Club Motor Inn.
5. Lightning Ridge
NSW
Australia's home of the black opal presents a real outback experience, with amazing landscapes, an outback theatre, underground sculptures, bore baths, artist galleries and lots of unique characters to meet. Visit in July, when Lightning Ridge celebrates its annual Opal Festival.
Stay nearby: Sonjas Bed and Breakfast.
6. Umpherston Sinkhole
Mount Gambier, SA
Also known as The Sunken Garden, the Umpherston Sinkhole was a cave until the roof collapsed in thousands of years ago. Today there are stairs carved into the sides and meticulously planted gardens, creating a gorgeous space to explore.
Stay nearby: Quality Inn Presidential.
7. Lake Bumbunga
Lochiel, SA
What makes Lake Bumbunga different? Well for a start, it's pink. A combination of high salinity levels, salt-loving algae and pink bacteria known as halobacteria make for the shocking hue that has to be seen to be believed.
Stay nearby: The Blyth Hotel.
8. Tarkine Wilderness
Savage River National Park, TAS
Think rainforests are exclusive to North Queensland? Think again. The Tarkine Wilderness in Northwest Tasmania is a hidden treasure of natural beauty. It's a whopping 477,000 hectares, making it the largest temperate rainforest in Australia.
Stay nearby: Arthur River Spa Cottage.
9. The Bungle Bungles
Kununurra, WA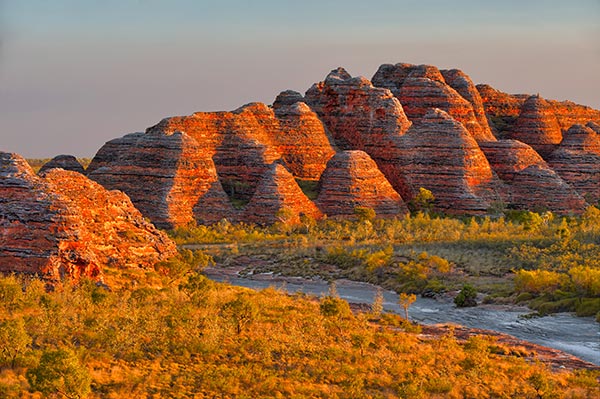 The Bungle Bungles are a geological marvel – a range of imposing, beehive-like sandstone mounds slashed with orange and black tiger stripes. They're in Purnululu National Park, which – after you catch your breath back – you'll find perfect for hiking, with plenty of gorges and pools to cool off in.
Stay nearby: Kununurra Country Club Resort.
10. Buchan Caves
Gippsland, VIC
The Buchan Caves were formed over thousands of years by ancient underground rivers. You can explore their stalactites, stalagmites and beautiful calcite-rimmed pools with fascinating guided tours that take place every day.
Stay nearby: Silverwater Resort.
PLAN YOUR AUSSIE GETAWAY