You're about to become parents, one of the most intense, yet rewarding, life experiences a couple can face. Once bub comes, it won't be as easy to get away for special couple time. So why not treat yourselves to some relaxation and romance now, before the baby arrives?
The choice of destination and hotel is important, as both of you need to be comfortable (which can be tricky when you're pregnant). There's also the challenge of having access to pregnancy-friendly facilities and services, if you need them. But an Aussie babymoon has got you covered on all these fronts, and it means you can avoid flying if you've already passed the 32-week mark.
So here are 10 of the best Aussie hotels for a babymoon in 2018!
—77-97 Broken Head Rd, Byron Bay
Surrounded by lush rainforest and within minutes of the beach, not only is Byron at Byron a blissful resort to stay at, its nourishing babymoon package is one of the best in the country. Spacious bedrooms that look out to a natural environment make for the perfect way to spend some private time together. Best of all, the babymoon package also includes a pregnancy massage for the mum-to-be, as well as a remedial massage for their partner. There's also yoga to stretch out the stress in preparation of welcoming your new bundle of joy into the world.
Why we love it…
The resort's nourishing babymoon package is tailored to make sure parents-to-be can unwind and relax in each other's company.
Book The Byron at Byron
—5-19 Lilianfels Ave, Katoomba
The scent of Eucalyptus in the air and its setting in the magnificent Blue Mountains ensured Lilianfels' spot on this list. Tranquillity surrounds the resort, and its luxurious bedrooms with king-sized beds are fantastic for couple bonding. Not to mention, the babymoon package includes spa treatments for both guests, and a three-course dinner at the resort's multi-award-winning (and Hatted) Darley's Restaurant.
Why we love it…
A boutique hotel that feels like home away from home. You can choose to do as much or as little sightseeing around the mountains and onsite gardens as you'd like.
Book Lilianfels Resort & Spa
—Lizard Island, Cairns
This high-end, exclusive resort has 24 private beaches and is perfect for those looking for ultimate indulgence and privacy for their babymoon. The babymoon option includes mocktails on arrival, tailored massage treatments to ease the tensions of pregnancy, a sunset cruise with soft drinks, and a private beach picnic to top it all off.
Why we love it…
A mocktail on arrival and a sunset cruise with soft drinks served in a champagne flute? This resort will make you forget the stress of pregnancy and get back to enjoying the little moments that count.
Book Lizard Island Resort
—4038 Cradle Mountain Rd, Cradle Mountain
There's nothing better for the soul than fresh mountain air and being surrounded by natural wilderness, and a babymoon at Peppers Cradle Mountain Lodge delivers on both. Spacious cabins that look out to Dove River and the forest of Cradle Mountain will make you breathe a sigh of relief and want to stay forever. Cradle Mountain Lodge offers gourmet meals with fresh Tasmanian produce, fantastic beauty and spa treatments that can be tailored for either parent, and plenty of time for long, relaxing walks around the estate. Alternatively, take it easy and curl up with a good book. The choice is yours.
Why we love it…
The wilderness that surrounds the lodge, and the spectacular views it lends the rooms, give Cradle Mountain Lodge an unmissable edge.
Book Peppers Cradle Mountain Lodge
—1000 Ann Street, Fortitude Valley, Brisbane
If you'd prefer a city stay, check out Brisbane's boutique Emporium Hotel. Their babymoon add-on package is perfect for parents-to-be who don't want to do too much. 24hr on-demand movie streaming, ice-cream and popcorn, valet parking, and a gift pack for the future little one/s—the Emporium sure knows how to spoil you.
Why we love it…
All the movies to watch with ice-cream and popcorn aplenty. What more do you want for a city-based babymoon?
Book the Emporium Hotel
—187 Wallcliffe Rd, Margaret River
A little retreat with 1912 old-school charm, the Basildene Manor is one for those looking to escape the modern world. With only 19 guestrooms, you'll soon feel part of the family and be able to indulge in some alone time without the hustle and bustle that sometimes comes with a large resort. Surrounded by landscaped gardens and easy access to quality cafes and restaurants, this is a lovely little babymoon location without pretence.
Why we love it…
The historic atmosphere of the manor combined with the quiet surrounds of the Margaret River wine country makes Basildene Manor the perfect escape for couples looking to keep things low-key.
Book the Grand Mercure Basildene Manor
—229 Oakwood Rd, Oakbank
Imagine being in your own cottage in the middle of garden country, surrounded by iconic Australian bushland, mixed with European charm. This is what you'll experience in one of the self-contained Adelaide Hills Country Cottages—your own piece of babymoon paradise.
There's a selection of accommodation options, with different styles of cottage to choose from, but we recommend The Nest. Relax with a book on the verandah, or close your eyes and listen to the surrounding by bird calls.
Why we love it…
The cottages are hidden away and self-contained. Anyone looking for a romantic babymoon hideaway will find heaven among the bushes here.
Book Adelaide Hills Country Cottages
—87 Tallwood Ave, Mollymook Beach
A modern and stylish resort with sea views of Mollymook Beach, Bannisters Pavilion is a little indulgent corner of babymoon heaven. The resort's tailored babymoon package includes a welcome mocktail for the mum-to-be (and a full drink for their partner), a choice of spa treatments for two, and an organic gift for the little one/s to come. Bannisters is situated on a quiet stretch of the New South Wales South Coast, with a beautiful coastline and sea breeze to revitalise the soul. At the end of a relaxing day, enjoy dinner at the resort's restaurant, run by famous British chef Rick Stein, and enjoy each other's company before two becomes three (or more 😉).
Why we love it…
The sea views and the tailored mum-to-be treatments. They say sea breeze is great for your health and there's no shortage of that here.
Book Bannisters Pavilion
—Wilkinsons Rd, Maryvale
A babymoon at the Spicers Peak Lodge is all about the couple, tailored to each of their needs. The Peak Lodge Babymoon Getaway package has something for both parents-to-be, including a welcome mocktail, massages for two, morning and afternoon teas, lunch, and a tasting menu for dinner. There's even a gorgeous relaxation corner in your room with candles, slippers, and chocolate-dipped strawberries!
Why we love it…
The relaxation corner to feel pampered in and the many gourmet experiences. Because, let's face it, Mum is eating for two!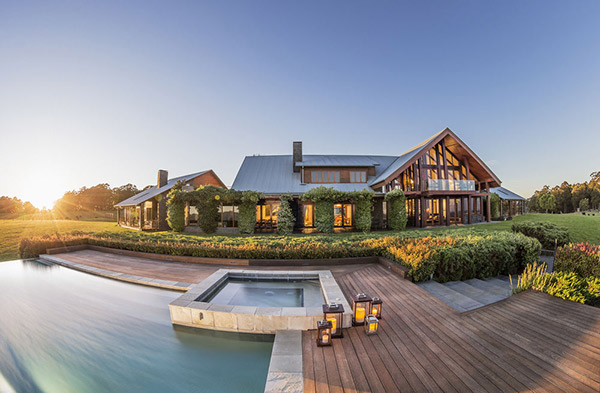 Book Spicers Peak Lodge
—1 Cathedral Ave, Perth
Located close to Elizabeth Quay and Kings Park, COMO The Treasury is a stylish hotel in Perth's CBD that perfectly caters to the need of parents-to-be to spend time with each other and enjoy their last few months (or weeks) of being just a couple. The two-night babymoon package includes a spa treatment for both parents (with an additional pedicure for the expectant mother), a COMO Shambhala lunch for two at Post restaurant, anda voucher to spend at Petition restaurant on the second night. This package is perfect for couples who want to explore many of Perth's exciting up-and-coming corners.
Why we love it…
With stylish luxury in the middle of Perth city, plus a thoughtful pedicure for Mum, COMO The Treasury lets couples enjoy both 'us' and 'me' time.
Book COMO The Treasure