With both domestic and international borders reopening, tourism has returned and many of us are yearning to travel again. Why wouldn't we be? Australia is home to some of the world's most spectacular regions to explore, from the gorgeous, rugged coastlines to the spectacular countryside or the vibrant sand of the Red Centre.
Over 260 Aboriginal language groups are the Traditional Owners of every aspect of this land, with deep physical and spiritual connections to Country. Travelling through Country alongside Traditional Custodians is an incredible way to elevate your travels and create lasting, meaningful memories while on holidays. Taking time to learn and engage with the wisdom of the world's oldest living cultures will deepen your understanding and appreciation of the spectacular environments you encounter.
When travelling around Australia and visiting First Nations communities, there are a number of ways to not only maximise your own opportunities for learning, but also ensure that you are engaging with mindfulness and respect. Here are five small ways to have a big impact in supporting First Nations communities while travelling.
1. Do your research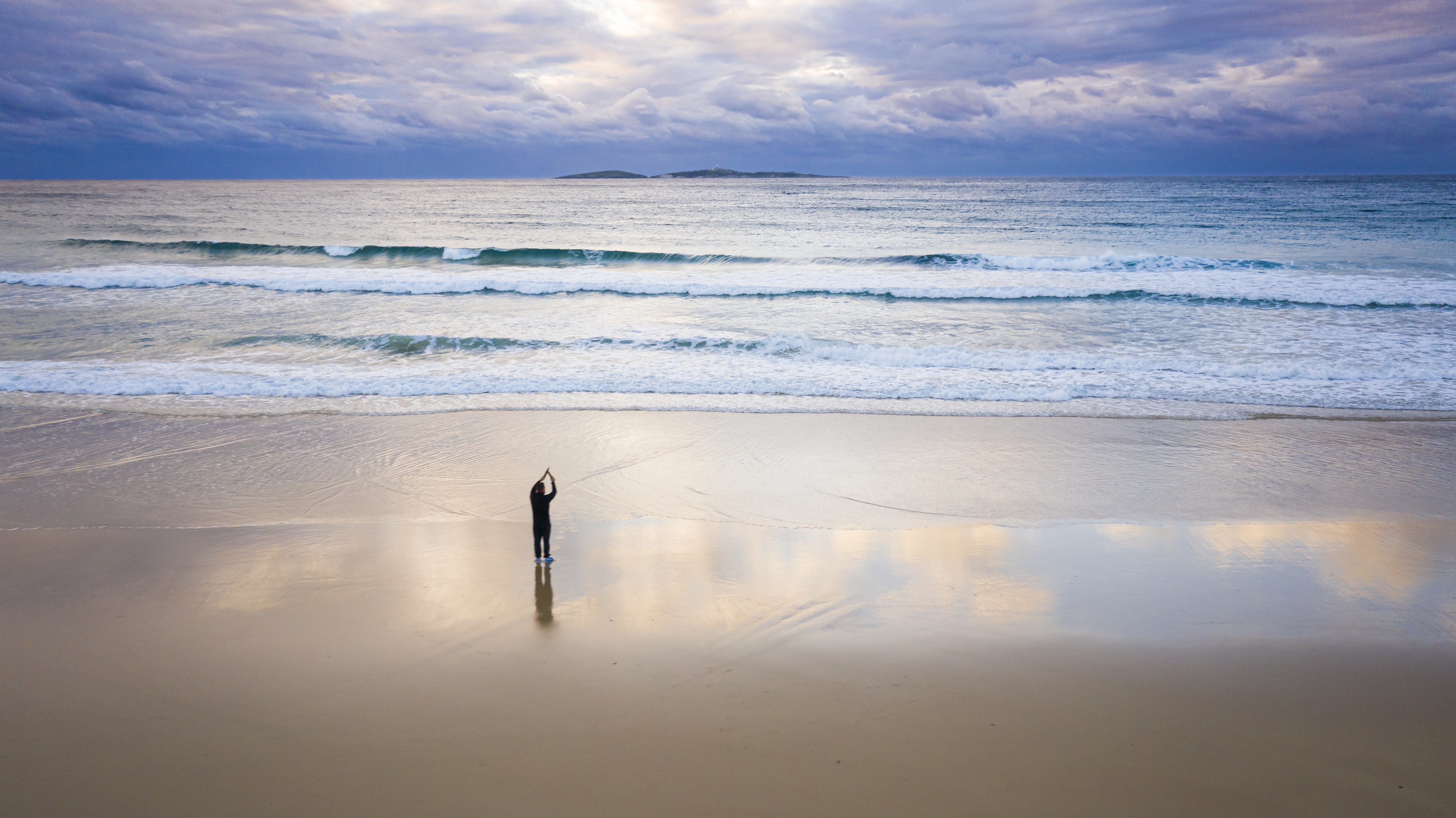 One of the most exciting parts about going on holidays is researching, planning and dreaming of all the incredible things you want to see and do while you're away. Amid the organising, taking the time to research the Traditional Custodians of the land you will be visiting is a simple yet meaningful way to prepare for your trip. Each First Nations language group has their own distinct cultures, practices, kinship and traditions, and developing a basic understanding of these before you take off is a great way to prepare. Having some knowledge of an area's history will also help you to understand the important events which led to the contemporary way of life in the places you visit and can offer valuable insights to make your trip more engaging – for example, the stories behind significant place names or the significance of sacred sites you may be able to visit. The AIATSIS map is an excellent starting point for understanding whose land you are on and many language groups have land councils and websites that offer further information.
You can buy your own AIATSIS map from Welcome to Country.
2. Acknowledge Traditional Custodians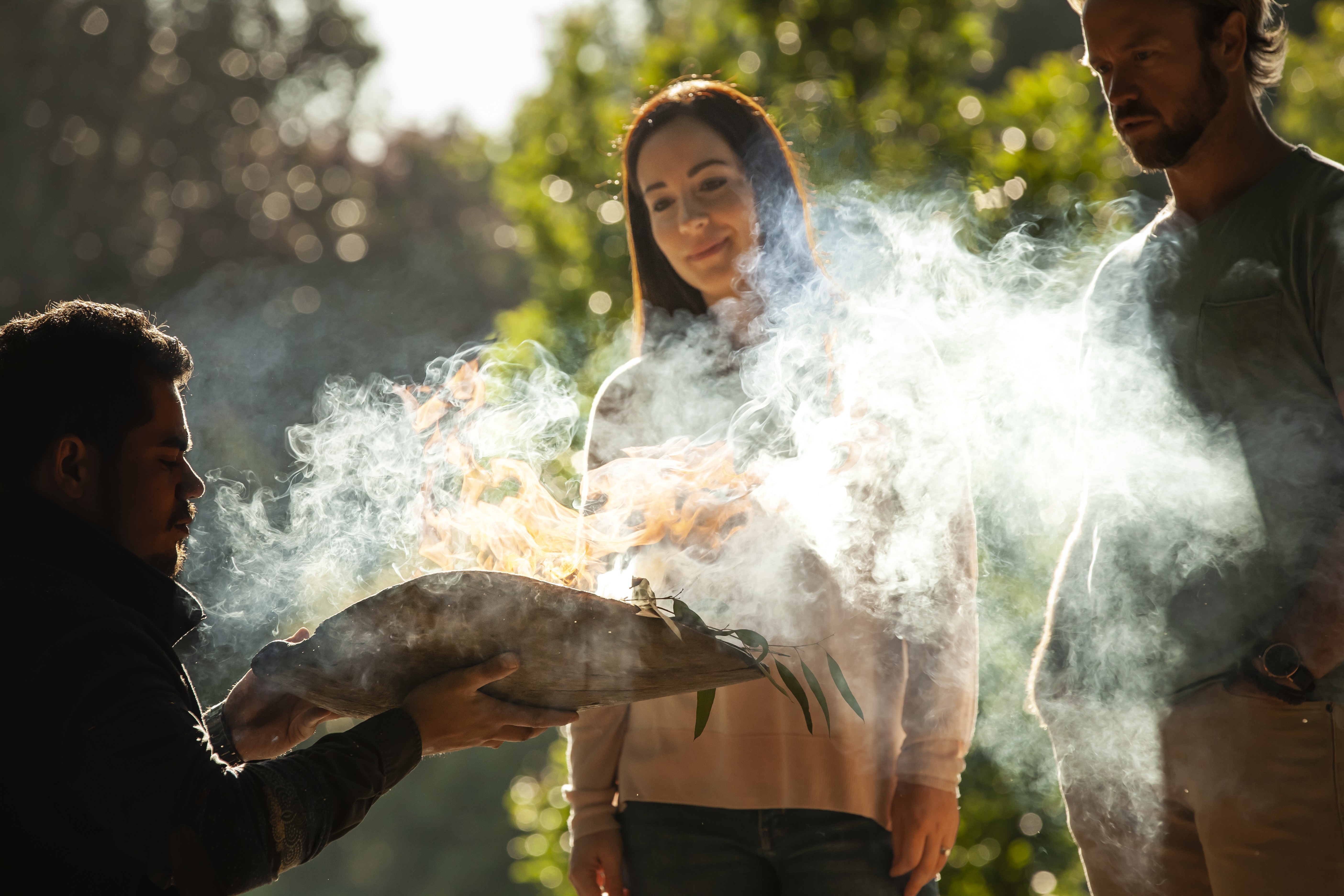 If you can find or are given any opportunity to witness a Welcome to Country during your travels – take it! Welcome to Country ceremonies are unique to different language groups but are always performed by Traditional Custodians of Country and sometimes include traditional language, song, dance and/or smoking ceremonies. Being Welcomed onto someone's land is an honour and the best way to start your travels, introducing you to the culture of a region while granting you formal permission to be on Country. When travelling with a group, another great way to show your respect is through an Acknowledgement of Country. While a Welcome to Country can only be performed by a Traditional Custodian of the Country you are on, an Acknowledgement of Country is a meaningful way for anyone to recognise First Nations people and their connection to the land on which you stand.
3. Respect the practices of communities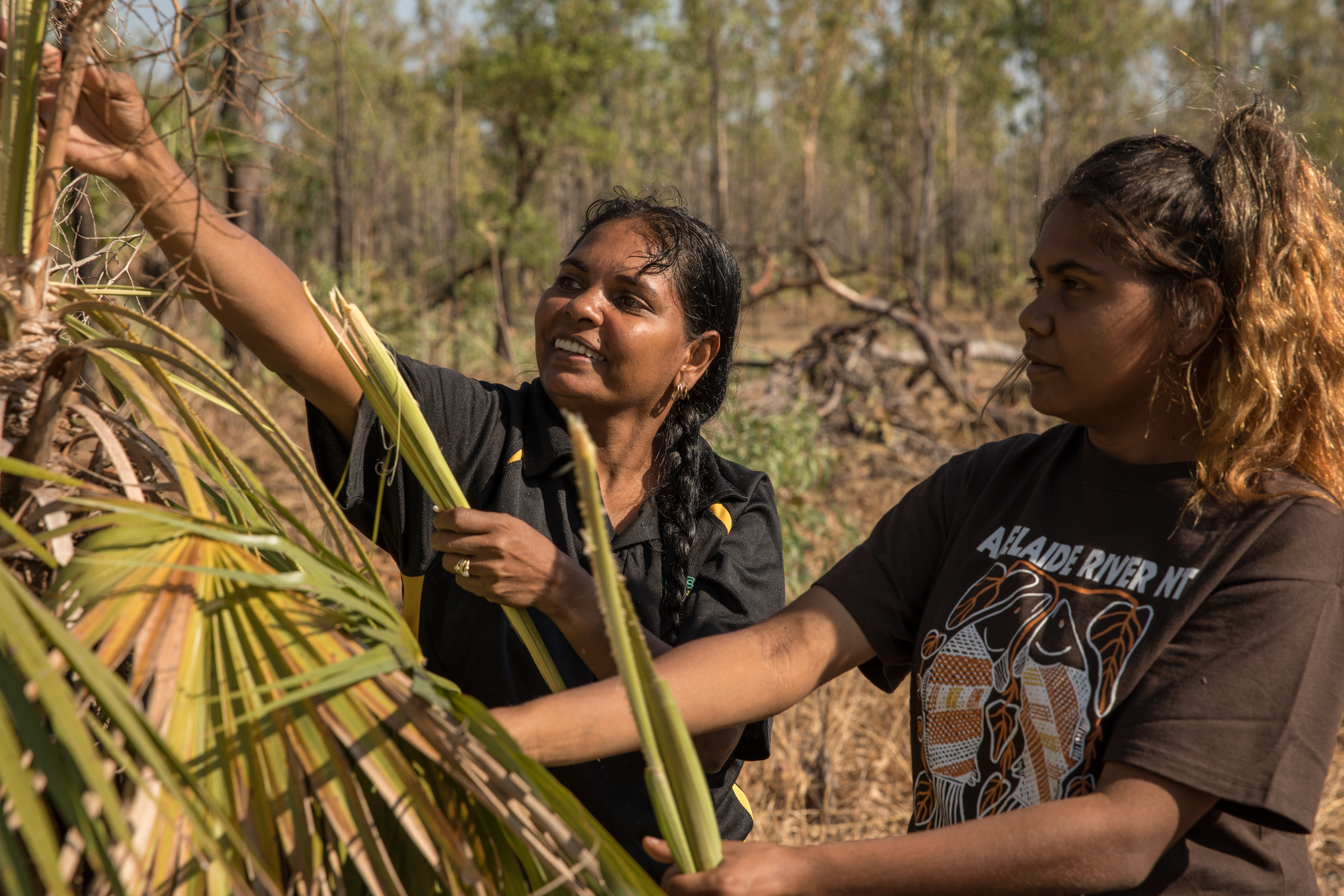 It's easy to get caught up in the excitement of holidays, but it's always important to take the time to understand and respect the practices of First Nations communities by being mindful of your own actions and their impact on those around you. The research and planning you undertake before you leave can help you to prepare for some of the practices that you need to be aware of. As a guest on Aboriginal land, it is highly important to acknowledge and practice the cultural protocols of the communities you visit.
These protocols may include dressing modestly to cover certain areas of the body, conversing at eye level (not standing over someone) or ensuring that you understand when and where photographs are and aren't appropriate. For many Aboriginal communities, there is an element of protected knowledge that is sacred and secret to community members. It is important to recognise and respect this privacy and ensure that you adhere to the laws of the Country you are on, whether this means avoiding sacred sites where you are not permitted to enter, respecting community members' wishes if they do not want to share knowledge or language, or acknowledging the different roles, practices and places that are appropriate for men and women.
4. Take care of your surroundings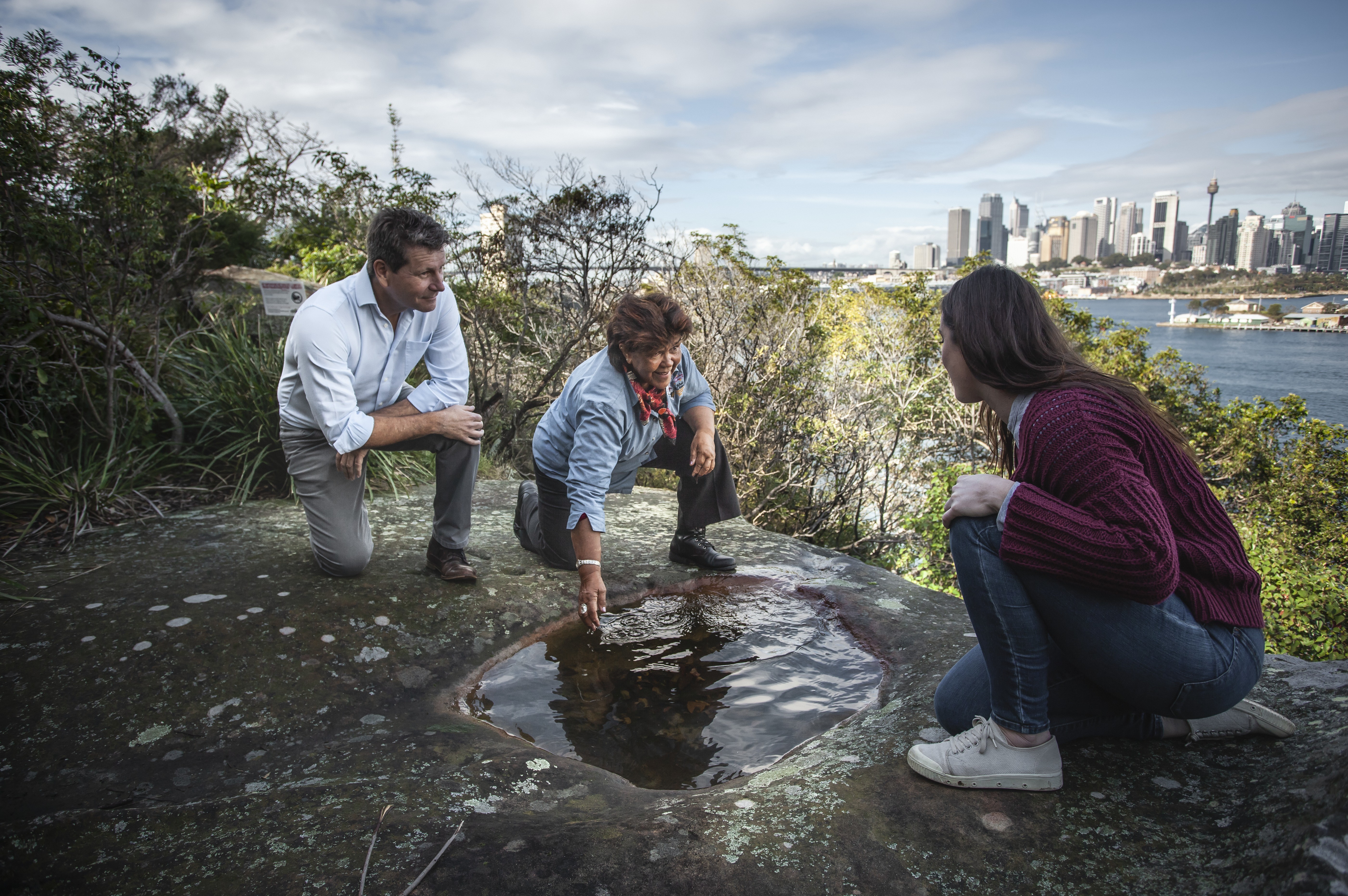 It is incredibly important to be aware of and minimise your environmental footprint wherever you travel. Aboriginal and Torres Strait Islander people have carefully cared for this land for over 60,000 years through complex understandings of the environment and its ecosystems. These understandings extend beyond modern practices of sustainability and are intertwined with an intrinsic connection to Country. When travelling, you can support communities by ensuring that you don't collect or remove objects as they may have cultural significance. Be careful not to disturb natural environments, particularly when you have the privilege to enter sacred sites. As always, you should be mindful of the impact that you have on your surroundings and take extra care not to have a negative impact on the environments you encounter.
5. Actively learn and engage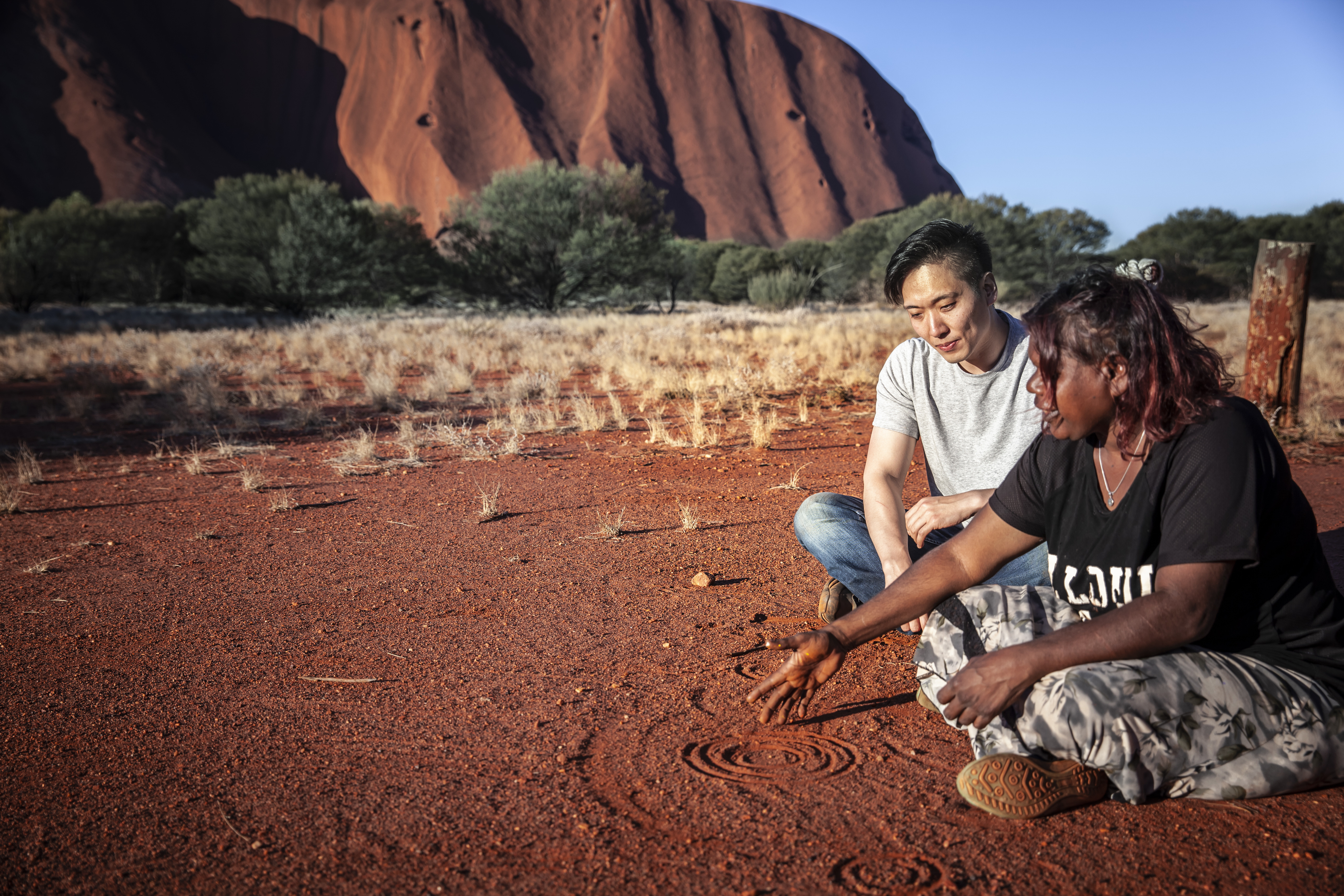 It's okay to make mistakes and acknowledge that you don't know everything – that's how we learn! The best way to improve your knowledge and grow your understandings is to actively engage with the Traditional Custodians of Country. As knowledge holders of the world's oldest living cultures, there is so much to learn from First Nations people and ample opportunities to do so whether you're interested in understanding kinship and lore, finding, tasting and learning about the roles of bush foods, or trying your hand at traditional art techniques. Throughout your experiences, it is a good idea to respectfully ask questions and clarify anything you don't understand to make the most of your opportunities to learn.
Booking an Aboriginal or Torres Strait Islander experience will not only deepen your appreciation for your holiday destination, but will directly help to support economic development and wellbeing in the communities you visit. This is something that is also important to consider when shopping along your way. Purchasing art, products or artefacts featuring Aboriginal designs is a great way to support First Nations businesses and communities, but it is always a good idea to clarify where the products were made and who they were created by to ensure the artists within the community are receiving fair royalties and recognition.
Find great experiences across Australia with Welcome to Country.
So there you have it, five easy yet meaningful ways to travel respectfully through the unceded lands of First Nations Peoples. The lessons you learn and the things you experience alongside Traditional Custodians will help make your holiday an important opportunity for personal growth, setting the foundation for continued engagement with the wisdom of First Nations cultures. When you return home, you can continue your journey of education by actively engaging with Aboriginal and Torres Strait Islander Peoples and cultures. You can read, watch or listen to content created by Aboriginal voices, incorporate an Acknowledgement of Country in your workplace meetings, shop from First Nations businesses or, better yet, start planning your next dream holiday!
LEARN MORE AT WELCOME TO COUNTRY
Heads up! Due to COVID-19, government restrictions are in constant review and travel guidelines may change. We strongly recommend that all travellers seek further information about destinations and attractions before scheduling trips or making bookings, take extra care and follow all rules.