You know that country-style welcome you get when you check into a B&B? The rush to the front door as they see you arrive to help you with your bags. The genuine smile as you walk through the entryway. The offer of a cup of tea as you take a seat on the comfy couch and fill out the paperwork.
Well, picture all of that, but transfer it to inner-city Melbourne. Replace the cup of tea with a beer or a glass of wine. And you have the perfect first impression of the Adelphi Hotel.
I always find it hard to decide where to stay in big cities – so many options, so little time – but with its 4.8-out-of-5 rating on Wotif and number one position on TripAdvisor, a stay at this 34-room boutique hotel was a no-brainer.
Built in 1938, and originally operating as a soft goods warehouse, the space was converted into a hotel in the '80s that soon attracted acclaim, fame, and plenty of high-profile guests (I do love a hotel with history).
After a short closure, in 2013 the new owners brought in an award-winning design studio to refresh both the property's interior design and its branding. Judging by my experience of its current incarnation, it's a very good thing they did.
Our room is ready early and our bags are whisked away without me even noticing. Bonus points to the Adelphi team for smoothness on their part. Minus points to me for being so unaware of my belongings 😉
You can't blame me, though, when the hotel design touches – in all their funky, industrial-vibe glory – are this gorgeous…
The feature mural in the lobby is oh-so-Melbs. And, well, it's not everyday you see a horse in a hotel reception area (see pic above).
And that's before we even make it to our Plush King Room (hello upgrade!)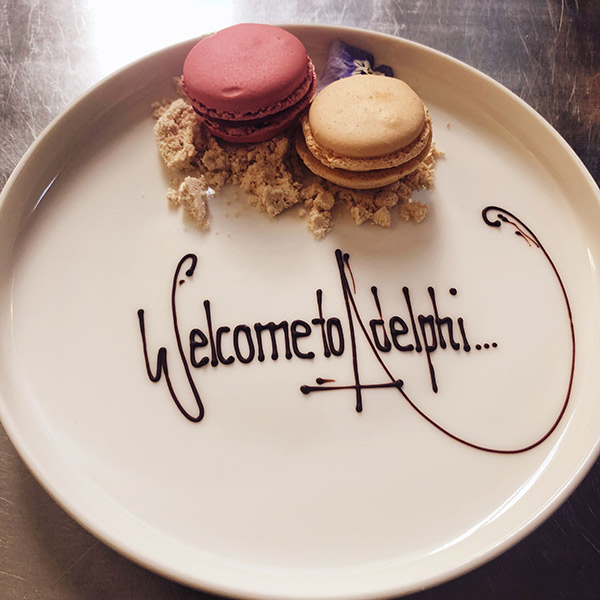 The 45sqm room features a king bed, flat-screen HD TV with unlimited new-release movies, a coffee machine, heaps of cupboard hanging space and an industrial-cool bathroom, complete with double vanity, Appelles Apothecary goodies, and a separate bath and shower.
There's also free wi-fi and complimentary snacks and drinks, including juices, chocolate pretzels and lollies.
What really catches my eye, though, is the stylish design. This doesn't feel like your ordinary hotel room – it feels like your glamorous best friend's holiday home.
The Adelphi is a solid pick for whatever brings you to the Victorian capital. But unsurprisingly, given our warm welcome, where it really comes into its own is special occasions.
Mr Redfern and I are celebrating our second wedding anniversary and we not only receive a personalised message on the mirror in our room, but also a card with a handwritten message from the Adelphi team accompanied by a box of artisan chocolates. Now that's a sweet touch.
Next stop is the rooftop pool and deck. And what a rooftop space it is. Famous for its glass-bottomed pool that stretches out over the lane nine storeys below, the area has been recently refurbished and the heated pool is perfect for a quick dip, whatever the season.
Dragging ourselves away from the hotel is tough, but there's a lot of city fun to soak up. And you couldn't pick a more convenient location than the Adelphi's Flinders Lane position.
Be a tourist and grab a selfie with the street art in Hosier Lane.
Stroll to the nearby ACMI and check out the latest exhibition. Wonderland (open until 7 October 2018), a world-premiere exhibition that delves deep down the rabbit hole of Lewis Carroll's timeless tale, is the current must-see for adults and kids alike.
Hit the pavement and soak up the greenery at the Royal Botanic Gardens or the water views of the Yarra.
And, of course, eat and drink your way along one of the best restaurant strips in the country. I can personally vouch for the deliciousness of Chin Chin (worth the line) and The Meatball and Wine Bar (go the pork, fennel, sage, and orange balls with green pesto salsa verde sauce and super potato smash) from previous visits. But on this one-night-only stay, we opt for cocktails at GoGo Bar (Chin Chin's cool underground bar) and dinner at Kisumé.
If Japanese food is your thing, you need to go here. Book a spot at the counter and watch the sushi masters in action as you indulge in the tasting menu.
Be sure to save room for dessert back at the hotel, though. Because I haven't even mentioned the best part for sweet tooths! The Adelphi is home to a fine-dining dessert restaurant, appropriately named Om Nom Kitchen. While the menu does feature savoury options, it's really all about the sugary goodness, with signature dishes like 'Granny Smith's Pannacotta Party' and my pick, the 'Smoking Rosemary Caramelia Cigar Box'.
Food coma well in place, we retire to our room, then return to the restaurant for breakfast the next morning. If your sugar high has waned, top it up again with a PB&J Waffle, or if you need a savoury hit, you can't beat the Green Brekky – chimichurri scrambled eggs on sourdough with asparagus, parmesan custard and green pea croquette. Yum.
On a practical but important note, the Adelphi gets a massive thumbs-up for the parking situation too – which can be a nightmare (or just nightmarishly expensive) at some CBD hotels. The Adelphi is right next door to a Wilson car park and the hotel will provide you with a ticket to access a special rate of $16 per entry, per 24hr period. Waaaaay cheaper than the $80-odd dollars you'd pay without it.
So, in case, it's not already obvious, the Adelphi Hotel won my heart. And I'm willing to bet it will win yours too.
STAY AT THE ADELPHI HOTEL