The Northern Territory is home to natural wonders and stunning landscapes. It's where you'll find some of the world's most unique wildlife, including both fresh and saltwater crocodiles 🐊
It's a tropical paradise and desert wonderland all in one, and no one blog post could cover all the reasons why you've got to experience it for yourself. But we're an ambitious lot, so we think we can take you through at least a few of them. So, here it goes. Here are five awesome reasons to visit the Northern Territory ASAP.
1. The fun of Darwin
Many visitors to the NT start their adventures in Darwin – which is great, because there's heaps to see and do. Experience the beauty of the Mary River wetland systems on a guided airboat or river cruise. The wetlands are home to wild buffalo, fresh and saltwater crocs and all sorts of native birds (including brolga, egret, jabiru, sea eagles and more). Or take a hike through the Tjuwaliyn (Douglas) Hot Springs Park (a beautiful natural reserve and a significant site for Wagiman women). In the evening, pull up a chair at the Deckchair Cinema or grab a bite at the Mindil Beach Sunset Market.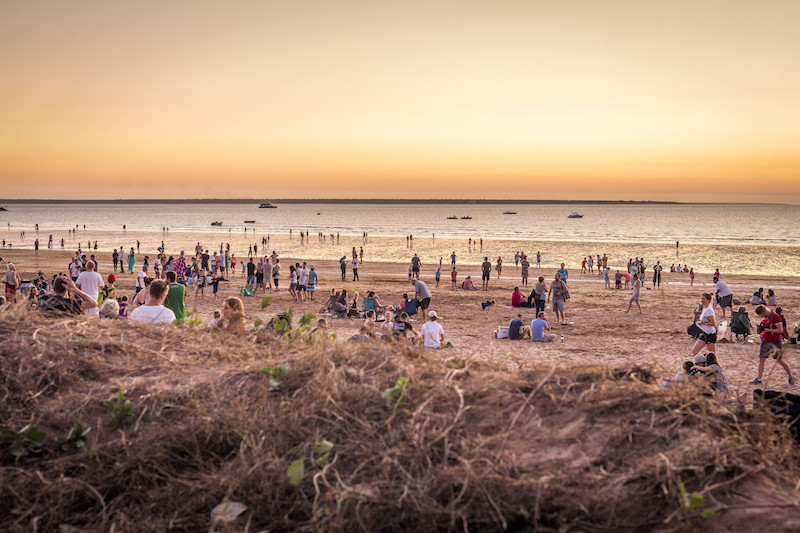 Of course, no trip to Darwin is complete without a visit to the prehistoric giants at Crocosaurus Cove. Go for a dip in the Cage of Death… if you dare 😱
2. The magic of Litchfield National Park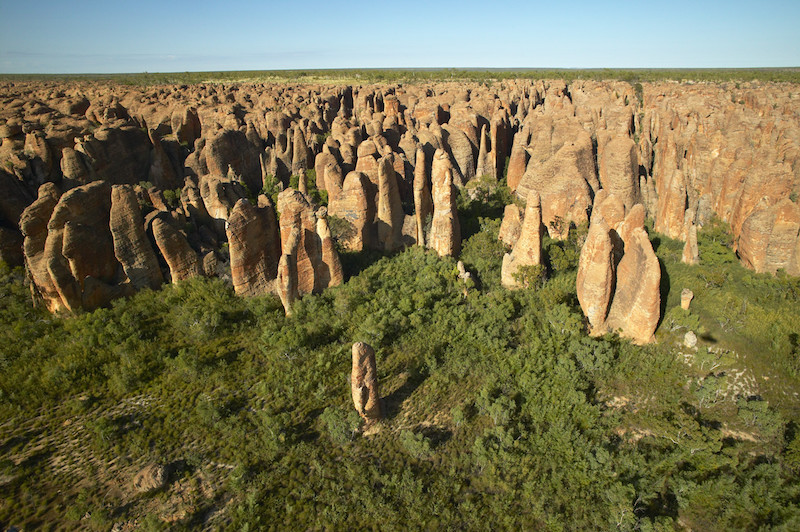 Join a tour from the big smoke or hire your own car, then get ready to explore the raw, awe-inspiring beauty of Litchfield National Park.
Discover towering waterfalls, wander through a field of massive magnetic termite mounds, or go swimming in a spectacular waterhole. These are just SOME of the things to do in Litchfield, and it's only a hop, skip and a jump from Darwin 🌴
But the real must-see is the Lost City. It's a series of huge, weathered sandstone towers that, together, look like a long-lost city. Accessible via 4WD, it's an unreal sight – a place you've got to see to believe.
3. The "Wow!" of Kakadu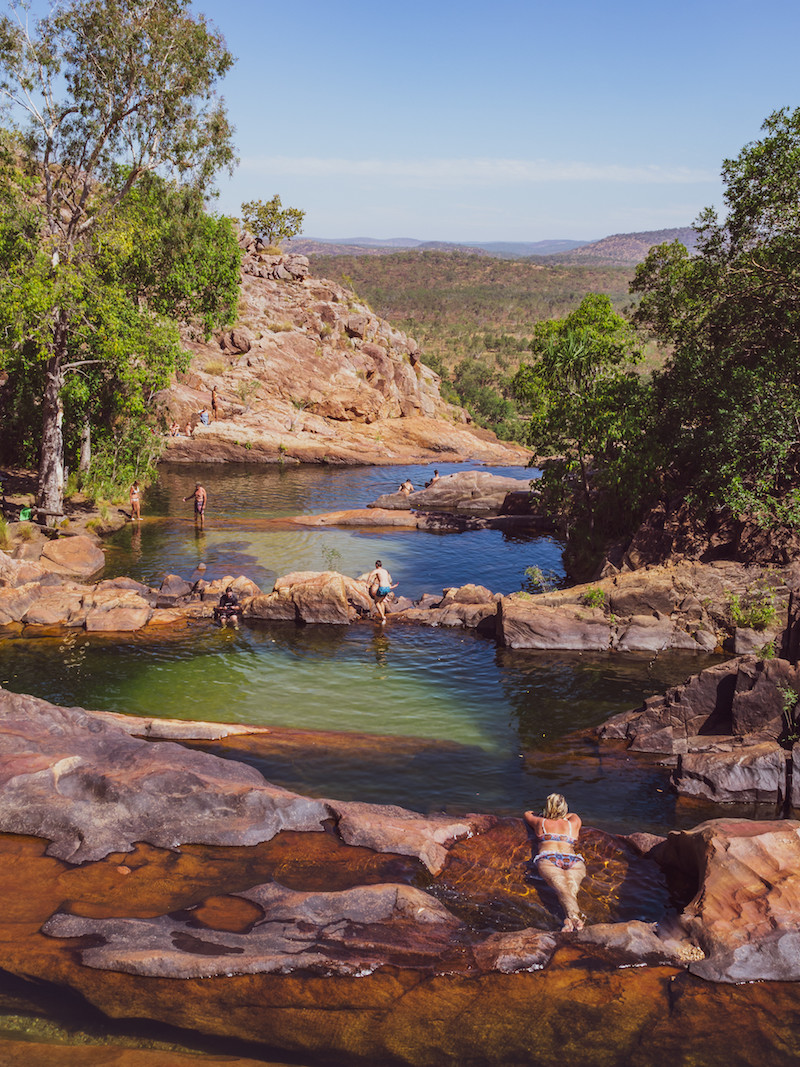 Kakadu National Park is a serious bucket-list destination for many travellers – and it's easy to see why. It's an emerald oasis in Australia's Top End and home to one of the greatest concentrations of gunbim (the Bininj/Mungguy word for rock art) in the world!
Be sure to take a scenic hike around Ubirr, where you'll find ancient rock art and spectacular views of the surrounding floodplains. Another great way to see the park is from the air. You'll get incredible views of the entire area and fly over wetlands, rivers, gorges and falls. Jim Jim Falls and the Twin Falls are especially amazing from this vantage point. If you're travelling on your own schedule, take a 4WD and discover the park on the ground. Make sure you go for a dip in the Gunlom and Maguk pluge pools – they're crystal-clear and oh-so-refreshing. Just remember to Be Crocwise at all times and only swim in areas that are clearly marked safe to do so.
At the end of the day, treat yourself to a little luxury at Bamurru Plains. Its stylish modern 'tentalows' are just gorgeous! Otherwise, there are plenty of other great motels, campground and lodge accommodation options to choose from.
4. The glory of Kings Canyon
Sure, the Grand Canyon's amazing, but you know what's even better? A King's Canyon 👑 😉 Head to the south-west corner of the NT to explore Watarrka National Park. It's home to otherworldly landscapes and, of course, Kings Canyon. With 100-metre-high red sandstone cliffs, palm-filled crevices and unreal desert views as far as the eye can see, it's a destination on its own. The 6km Rim Walk and 2.6km Kings Creek Walk are both must-dos, so give yourself a few days to do the park (and yourself!) justice.
Insider tip: You can drive to Kings Canyon from Alice Springs or Uluru, and once you're there you'll need wheels to get around. Hire a car if you're keen on going solo (but make sure you do your research first!) or join one of the many awesome Kings Canyon and Watarrka National Park tours.
5. The awesomeness of Alice Springs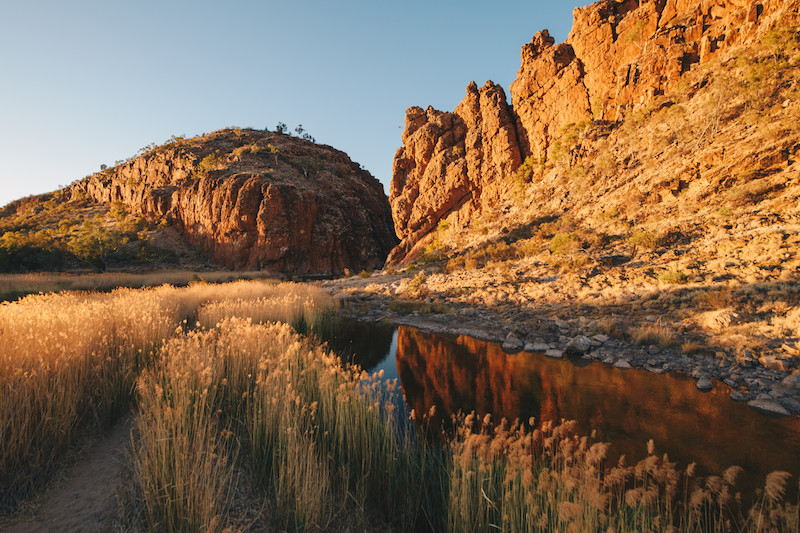 Have you even been to the NT if you haven't been to Alice Springs? Hop aboard a 4WD tour of the region and make sure you visit Tjoritja West MacDonnell National Park. Take a bushwalk through Palm Valley and go for a dip in the famous Ellery Creek Big Hole (a definite photo opp!). And check out some of Alice Springs' many fantastic Aboriginal art galleries. There's the Araluen Arts Centre (where you'll find multiple galleries and one of the largest collections of Albert Namatjira's work in Australia), the Tjanpi Desert Weavers centre, the Talapi art gallery and more!
After a big day of adventuring, rest your head on a plush pillow at Squeaky Windmill, a glamping resort with luxury safari tents and phenomenal views (including more stars than you can count 🌠).
Insider tip: To make the most of the sights, think about hiring a car or joining one of the many great local tours.
Need more reasons to book your NT getaway ASAP? Check out our awesome Northern Territory deals, available now!
PLAN YOUR NT GETAWAY