Western Australia is huge and has so much to offer, which is why those who stay inside Perth's city limits are doing themselves a massive disservice. Stock up on sunblock, fuel and bottled water, and head off on a road trip you'll never forget, exploring Broome to Esperance and everywhere in between.
Listed in order from brief day trip to epic week-long adventure…
1. Perth to Avon Valley
Distance: Approx. 80 km
Around 90 minutes in the car from Perth will deliver you to the hilly Avon Valley, a collection of seven quaint townships. Potter along picturesque streets and get schooled on pioneer history before spending the night at Enderslie House Bed & Breakfast.
2. Cowaramup to Busselton
Distance: Approx. 85 km, plus detours
Rather than speeding along the quicker, more direct route from Cowaramup to Busselton, take the scenic drive via Leeuwin-Naturaliste. If you have a 4WD, detour off Caves Road onto Boranup Drive to experience the amazing Boranup Karri Forest along the way, then spend the night at The Esplanade Hotel, right in the heart of Busselton.
3. Perth to Dunsborough
Distance: Approx. 250 km
Head south out of Perth on the Kwinana Freeway and Forrest Highway to Bunbury, where, if you're lucky, you'll spot the wild bottlenose dolphins that often swim close to shore. Then hop onto the Bussell Highway to Dunsborough, before bunking down for the night at the Dunsborough Central Motel.
4. Margaret River to Perth
Distance: Approx. 270 km
It's rough having to say goodbye to the picturesque (and delicious) Margaret River Region, but a scenic drive makes it a little easier. Head back to the big smoke via the coastal route along the Bussell and Forest Highways. Treat yourself to a romantic night at Fawkes House Country Spa Retreat before (begrudgingly) easing yourself back into reality.
5. Perth to Margaret River
Distance: Approx. 280 km
The ultimate adventure for wine lovers, a trip to the Margaret River Region is all the more enticing if you follow the inland route through the charming towns of Dunsborough and Augusta. The Augusta Escape is a great pitstop for unwinding after a long day of driving. And with full kitchens for preparing your own food, it'll be kind to your holiday budget.
6. Dampier Peninsula
Distance: Approx. 450 km round trip
Now we're getting to the serious adventures! Make your way inland from Broome and drive along the Dampier Peninsula on a journey ending at Kooljaman at the top of the peninsula. The local Bardi and Nyul Nyul people care for this land, and some roads may require permits, while some areas do not allow dogs. Make sure you stop in Beagle Bay to admire the Sacred Heart Church and its incredible pearl shell altar.
7. Golden Quest Discovery Trail
Distance: Approx. 655 km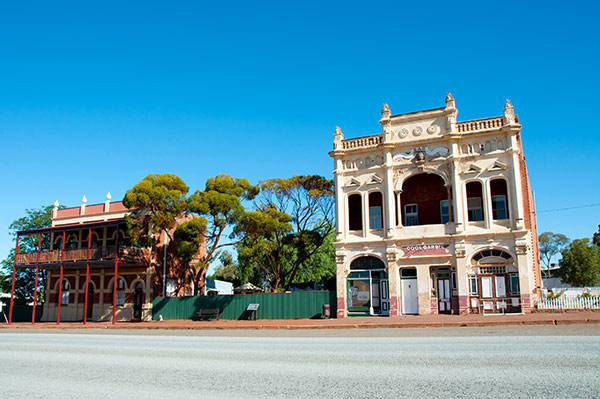 Step back in time to the 1890s as you drive through the WA goldfields from Coolgardie to Laverton. Check out historical hotels and mining spots, then check into the homey Laverton Motel for a good night's sleep.
8. Kununurra to Broome
Distance: Approx. 660 km
Explore cattle stations, wildlife sanctuaries, and gorges as you follow the amazing 4WD track that is Gibb River Road on an outback adventure you'll never forget. When you finally arrive at the modern, sleek Mangrove Hotel, you'll be wowed by the ocean views – and your wallet will thank you, as kids under eight stay free 😉
9. Perth to Esperance
Distance: Approx. 715 km
Head south from the capital for an adventure that's fun for the whole family. Check out York (WA's oldest inland town), Wave Rock, Lake Dumbleyung and the incredible Fitzgerald River National Park before continuing on to The Jetty Resort in Esperance. Make sure you leave yourself a few days to explore… and for relaxing on the beach.
10. Nullarbor Roadhouse to Kalgoorlie
Distance: Approx. 1200 km
Heads up – this drive is epic in every sense of the word. Begin in South Australia and trek across the Nullarbor on the Eyre Highway. It stretches over 1000 km, much of which is uninhabited, so make sure you go prepared with a GPS navigation system, satellite phone, and enough clothes for a week's worth of adventures. Keep an eye out for wild camels, kangaroos and emus (especially at dusk, when you're better off kicking back and admiring the scenery). When you arrive in Kalgoorlie, check into the Quality Inn Railway for a swim to wash off that outback dust!
Plan your WA Getaway