'Incredible, iconic, traffic congestion' are four words you'd probably never use together, yet they perfectly describe how the average Sydneysider feels about the Sydney Harbour Bridge. That included myself until about one month ago, when I finally got the chance to climb the Sydney Harbour Bridge. Now I can only describe it as something truly spectacular.
Climbing the bridge was a bucket-list item of mine that I wanted to do, but just never prioritised. That was a mistake! So here, with all my post-climb wisdom, are five reasons every Sydneysider should climb our iconic Aussie Coathanger sooner rather than later.
1. Because you can
How many iconic, man-made landmarks can you climb around the globe? I mean, I don't know, but it's safe to assume not many. The Sydney Harbour Bridge (and the Opera House, for that matter) continually top the list of landmarks to see before you die, so it would be almost ungrateful not to visit (and climb) them when they're right on our doorstep.
Climbing the bridge also offers a rare opportunity to experience an international landmark without thousands of people ruining your view. Yep, I'm talking about the endless lines at Paris's Eiffel Tower and the hundreds of people throwing coins over their shoulders at Rome's Trevi Fountain. When you climb the Sydney Harbour Bridge, there's just you and a maximum of 14 other people, which means it's utter bliss when you reach the summit, with uninterrupted views of the best city in the world.
2. You learn things about Sydney you probably should have known a long time ago
Did you know that up to 1,400 Sydneysiders worked on the construction of the bridge between 1926 to 1932? Or that the bridge is held together by more than six million rivets? Maybe you do, but I certainly didn't. Your Climb Leader, in addition to being an all-round champion host who's responsible for your safety during the climb, will also talk you through how the bridge was built, what life was like during its construction, and the how the bridge is currently used in some of Sydney's biggest celebrations. I do my climb just before Vivid, so I see some of the preparation for that, as well as a cool '70s-style flashing dance floor on top of the bridge.
Along with the history lesson, you gain an appreciation for what life was like back in the '20s and '30s, as well as the safety procedures we have in place today. Just wait until you hear how the bridge's six million rivets were fixed along 550,000 individual pieces of steel! (Hint – there's no way it would pass today's safety standards.)
3. Not being allowed to use your phone is actually really rewarding
Hate to break it to you, but for safety reasons you can't carry anything with you on the climb – and that includes cameras and phones. BUT it makes the experience even more special, because it forces you to immerse yourself in it and really enjoy the view firsthand, instead of taking hundreds of photos.
It also means the experience is totally unique for every first-timer. Ever been to Time Square or Stonehenge only to be disappointed because it didn't compare to the photos you saw on social media? No phones allowed means you won't just see what you've already seen on your Instagram feed and you'll really get to embrace the feeling of being 134m above sea level.
But if you really love your photos, don't worry. Remember that friendly Climb Leader I mentioned? They'll also be your photographer and videographer during the climb and will take a group photo and a 7-second video, which you'll receive for free after your climb.
4. Dare I say it, but it's better than a coastal walk
Sydneysiders loveeeee a coastal walk and not much can compare to the Bondi to Bronte or the Manly to Spit Bridge tracks… except the Sydney Harbour Bridge Climb. For starters, thanks to your Insta feed, you've probably already seen every angle of the Bondi to Bronte. And back to my earlier point about people ruining your view, the Bondi to Bronte coastal walk is notoriously crowded.
Plus, if you're looking for a workout along the water, then climbing the bridge is a solid option that's great for most fitness levels (although you probably can't do it every day). The regular bridge climb takes 3.5 hours, involves 1,332 steps and burns about 500 calories, which means you'll definitely earn yourself a seaside brunch or a sundowner once you're finished. Plus, did I mention there's a few ladders to tackle? You get extra points for all the flights climbed, right?
5. The view of Sydney Harbour just never gets old
No matter how many times you fly over Sydney Harbour, catch the ferry, or spend a day on the water, there's just something about our harbour that never gets old. And a bird's-eye view of Sydney and its neighbouring suburbs really puts things into perspective, including just how big our incredible city is.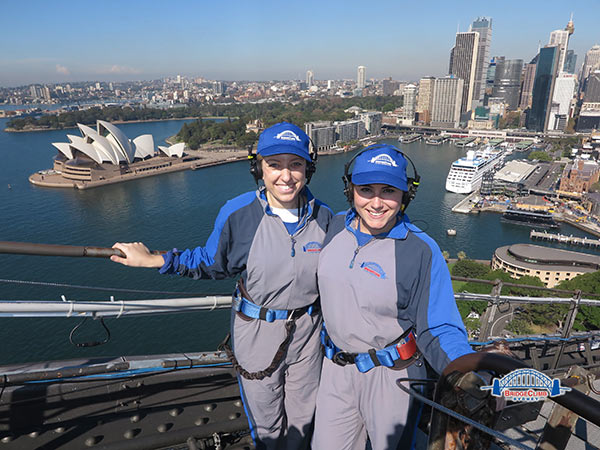 So there you have it – five reasons why Sydneysiders shouldn't leave the Sydney Harbour Bridge Climb to the tourists. I mean, can you really call yourself a Sydneysider if you haven't climbed our most uniquely Sydney landmark? After my experience, I'd vote no!
Climb the Sydney Harbour Bridge
Plan your Sydney getaway