It's time to lighten up, friends 😉 Why? Because the Southern Hemisphere's LARGEST festival of light, music and ideas is about to hit the Harbour City. Yep, Vivid Sydney is back in 2019, from Friday 24 May to Saturday 15 June. If you've never experienced the bright, inspiring and downright AMAZING festival that is Vivid, then this is the year to do it. Here's why…
1. Incredible live music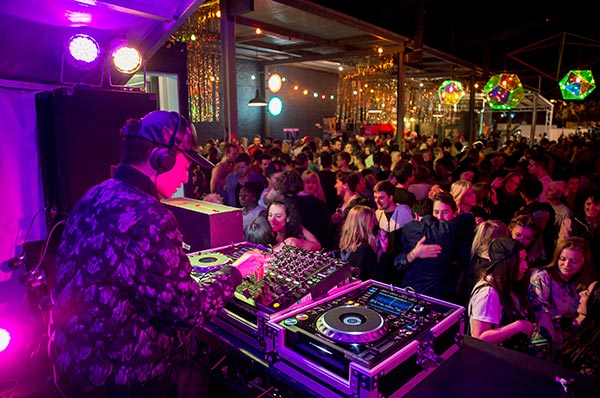 Sure, Vivid Sydney is all about out-of-this-world light displays, creative events and thought-provoking talks, but what about the music? What other festival can boast the likes of Paul Kelly, The Dirty Three, Kate Miller-Heidke, Katie Noonan, FKA twigs, and more? A few headline acts have already sold out (when it comes to concerts, you've got to think fast!), but you can still nab tickets for most events – including Curve Ball, a warehouse party starring Hayden James, Mallrat and Touch Sensitive.
If you really love your music, don't miss the X|Celerate program. There are 23 inner-city live music venues to explore, showcasing everything from emerging bands, established musicians and cool sound artists from every genre and style you can think of. If you're a diehard Aussie music fan, make sure you check out Tex Perkins and Matt Walker's performance at the Camelot Lounge. If you adore strong frontwomen, head to Ziggy's Barber Shop, which is hosting a series of pop-up live music parties featuring awesome female arists.
2. An amazing Pixar Animation Studios installation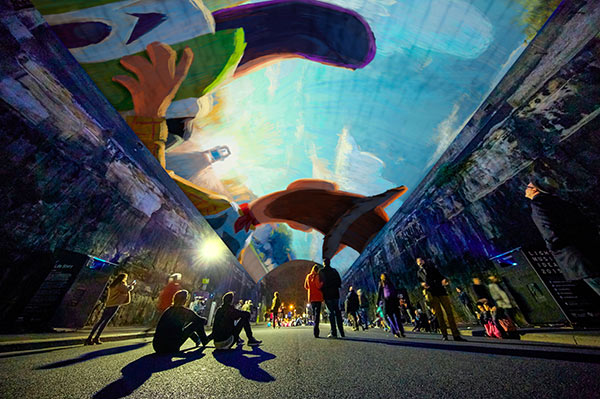 Pixar Animation Studios' films have a special place in many of our hearts. From the original Toy Story to the loveable characters in Finding Nemo, there's something about these movies that tugs at the heart strings. To celebrate the stories, characters and artistic vision that this Academy Award-winning studio has given us over the past three decades, a special project called Pixar: 30 Years of Art and Animation has been specially designed for Vivid Sydney 2019. It takes audiences on a visual journey through the studio's creative process, showcasing everything from the early stages of development to beautiful watercolours, digital prints and paintings. The cherry on top of what is an already delicious pop-culture sundae is that this event is FREE and super easy to get to. It lights up the Argyle Cut in The Rocks every night of the festival. Make sure you take the family!
3. Vivid is even bigger than you think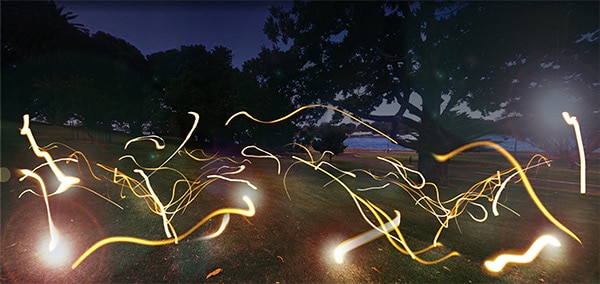 If you thought Vivid Sydney was all about bringing colour and excitement to Circular Quay… well, you're only partly right 😉 The festival is absolutely HUGE and will keep all of Sydney buzzing. There are awesome things to see and do in Darling Harbour, Taronga Zoo, Chatswood, Barangaroo and Luna Park, to name just a few spots. The Botanical Gardens will also be joining the fun with installations, interactive displays and Firefly Field – an engineering feat of incredible firefly-like lights.
4. Inspiring (and challenging!) talks and events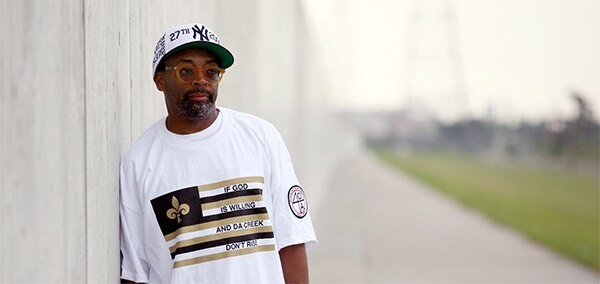 Vivid Sydney's installations, exhibitions and performances are fantastic, but its talks and events – and the space they create for future-facing, innovative and sometimes controversial themes – are the real game-changers. Vivid's workshops, forums and collaborations explore everything from race with iconic American film director and writer Spike Lee, spirituality with TV and radio personality Meshel Laurie, relationships with psychotherapist Esther Perel, and digital distractions in everyday life with Australian journalist and broadcaster Mark Colvin. There are loads of free events too, including the Art Gallery of NSW's famous Vivid Art After Hours. Check out the bold three-part discussion series hosted by Haiku Hands, an Aussie band who mix high-energy pop with expertly choreographed routines. They cover everything from death to conflict to sexuality.
5. This pic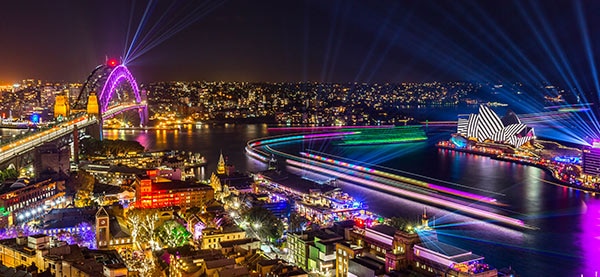 Uh, need we say more? No, we need not, but we will anyway 😉 Because, WOW, you've never seen the harbour like this. Get your camera ready, because Vivid Sydney turns most of Sydney (especially Circular Quay) into a huge, immersive art experience, with synchronised light shows across the harbour. You won't know where to look, but a couple of great places to start include the iconic annual displays at (and on) the Opera House, the Harbour Bridge and Customs House – all must-sees in 2019.
So, what are you waiting for? Get yourself to Vivid Sydney 2019 ASAP!
PLAN YOUR VIVID SYDNEY GETAWAY