Top Gold Coast holiday packages
3.0-star property
Ingleside Stud Farm
Tallebudgera Valley
4.8/5
Exceptional! (139 reviews)
25 Aug. - 29 Aug.
4 night stay
Auckland (AKL) to Gold Coast (OOL)
Jetstar • Return • Coach
Price was NZ$1,432, price is now NZ$1,200 per person
Our host Bruce greeted us on arrival, he is a happy, welcoming soul and made us feel right at home. The cottage is peaceful, and we loved sitting on the deck watching the horses. Great place for a relaxing break with friends or family :)
Reviewed on 1 Apr. 2021
3.5-star property
Spectrum Apartments
Surfers Paradise
4.4/5
Excellent! (37 reviews)
25 Aug. - 29 Aug.
4 night stay
Auckland (AKL) to Gold Coast (OOL)
Jetstar • Return • Coach
Price was NZ$1,098, price is now NZ$976 per person
The location was perfect for the GC600, not too far from the track to walk but far away enough that the noise wasn't a disturbance. The apartment was spacious, clean and comfortable. I would highly recommend it to others!!
Reviewed on 27 Oct. 2018
3.5-star property
Mermaid Waters Hotel by Nightcap Plus
Mermaid Waters
4.1/5
Very Good! (996 reviews)
12 Aug. - 20 Aug.
8 night stay
Auckland (AKL) to Gold Coast (OOL)
Jetstar • Return • Coach
Price was NZ$1,593, price is now NZ$1,298 per person
The room was vvery quiet light and warm. This property is centrally located on the Gold Coast and was great value given we were there in school holidays.
Reviewed on 30 Jun. 2022
5.0-star property
Hilton Surfers Paradise Hotel and Residences
Surfers Paradise
3.7/5
Good! (1,000 reviews)
12 Aug. - 20 Aug.
8 night stay
Auckland (AKL) to Gold Coast (OOL)
Jetstar • Return • Coach
Price was NZ$2,034, price is now NZ$1,725 per person
Overall a pleasant 2 night stay with clean room, friendly staff. The big complaint was room facing Orchard Ave was terribly noisy. Room on the 11th floor yet noise constantly coming from street level and night clubs until around 5am. I can't believe hotel is not equipped with sound proof windows !! This was a special weekend away and found it a major issue for us with the noise. Very disappointing aspect of our visit. I had booked an executive room and quite frankly expected a better level of standard than what was presented in relation to simple sound proofing of the room. This has undone a lot of the good work done by the friendly staff to ensure we had a fantastic stay at this property.
Reviewed on 6 Jun. 2022
3.5-star property
Pacific Regis Apartments
Burleigh Heads
4.2/5
Very Good! (199 reviews)
17 Aug. - 21 Aug.
4 night stay
Auckland (AKL) to Gold Coast (OOL)
Jetstar • Return • Coach
Price was NZ$1,190, price is now NZ$1,010 per person
They tried downgrading my room from what was advertised And I had to move rooms for the last night.
Reviewed on 10 Jun. 2022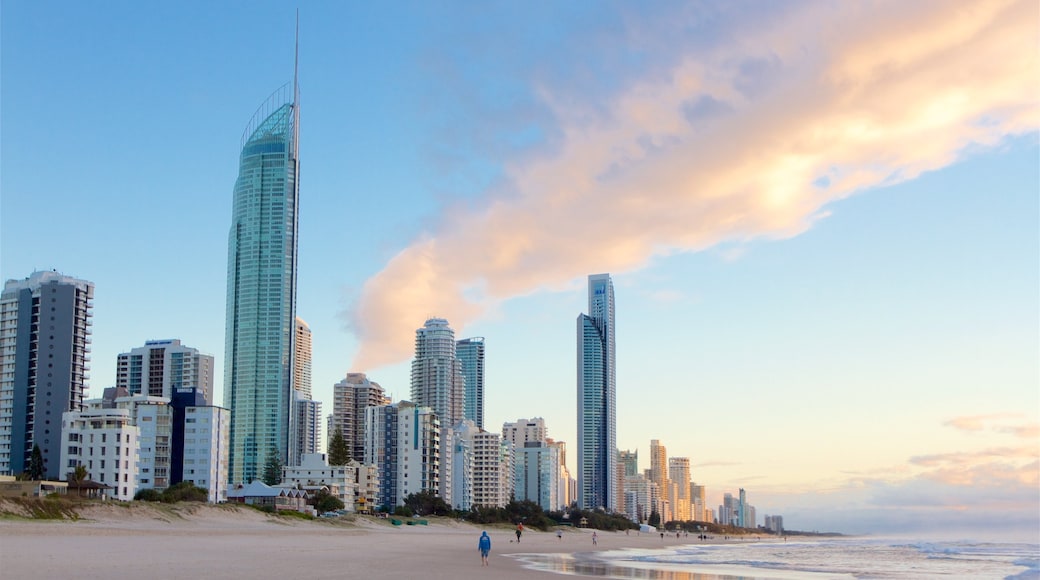 Book your Gold Coast holiday
Holidays to the Gold Coast
Surfers flock to the Gold Coast like moths to a flame, but even if hanging 10 isn't your thing, you can still have the time of your life in this Queensland destination.
High-rises, theme parks and relaxing spas are a big part of the landscape here, so there is always something to do. Outdoor enthusiasts and foodies alike will find a home away from home on the Gold Coast. Even better, thanks to killer Wotif deals on Gold Coast holidays, you can plan your dream holiday without spending an arm and a leg in the process.
Things to Do on the Gold Coast
The list of things to do along the Gold Coast is nearly as long as the beach, which is really saying something, since the sand stretches more than 50 km here. If you're a water lover, you will find everything from surfing to jet skiing in abundant supply. On the other hand, the Gold Coast certainly doesn't leave landlubbers in the cold. Climb to the Gold Coast SkyPoint Observation Deck for panoramic views of land and sea, then go to the Currumbin Wildlife Sanctuary to make some new furry (or feathered) friends.
Getting around on foot near the beach is a breeze, but a car hire on the Gold Coast really opens up your itinerary. With your own set of wheels, you can get from Coolangatta to the rainforest on your own schedule, no questions asked.
Shopping, Dining &amp Nightlife
What's that? The big money you saved booking one of our top Gold Coast packages is asking to be spent? You're in luck the Gold Coast has everything from charming boutiques to expansive retail outlets. You'll have no trouble finding a place to pick up designer duds, boardies or a new wetsuit to take home at the end of your holiday.
When you're ready to take a shopping break and grab some grub, everything from upscale steakhouses to small cafes characterise the gastronomy on the Gold Coast. Whether you're seeking something savoury or sweet, there is a coastal restaurant serving up food with a view.
At the end of the day, you don't have to pack it in early at your hotel. Party people can head to the Surfer's Paradise neighbourhood north of the city of Gold Coast to bust some moves on its packed dance floors. If you went too hard the previous night, keep it a bit more low key with a bar crawl or a waterfront cocktail. Even on a laid-back night, you're sure to have a smashing time—and you'll be well rested and ready to rip the next day.
What's Next
Wotif always has spectacular Gold Coast package deals. When you combine our awesome airfares with great hotel rates, it translates to a guilt-free holiday. Whether you're off on a luxury escape or looking to enjoy a budget holiday on the beach, Wotif packages to Queensland let you find a holiday that's just your cup of tea. Why wait? Listen to your holiday self and book an oceanfront getaway today.
Top Gold Coast hotels
Don't see what you're looking for?
See all available properties in Gold Coast
View all properties
Lowest nightly price found within the past 24 hours based on a 1 night stay for 2 adults. Prices and availability subject to change. Additional terms may apply.