Your first trip with a baby is, let's face it, a little terrifying. Will they completely lose the plot while in a confined space with 100 people (e.g. the plane)? Will we get any sleep? Will we even get to see the holiday destination? The list of fears goes on, which is why I'm glad you're reading this article. Enjoyable baby travel is possible and I should know – I'm a new mum myself!
We recently had our first trip with our bubba, Mackenzie, when she was six months old. She was going through one of those 'stages' – crying all day, no sleep, a million teeth… you get the gist. We were really unsure how the trip would go, but along came 'Holiday Mack'. The relaxed holiday vibes completely changed her personality, making her the most easy baby ever! Here are my top tips to get your own Holiday Mack.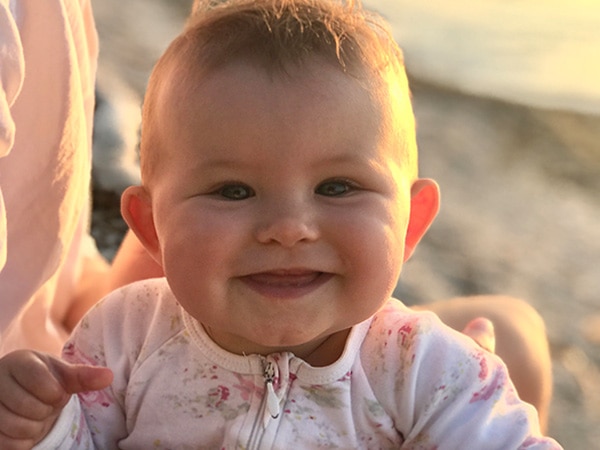 1. Choose the right destination
Now this is totally subjective and depends what type of holiday you like. We were keen for something low-key, so we opted for Port Douglas and Fitzroy Island. Mackenzie hates car trips, so being in one place was important for us too. The less screaming, the better! We also wanted to make sure it wasn't too hot, so we decided to go in October (before the jellyfish and the heat, but still warm enough to swim). Because show me a baby that loves being overheated 😁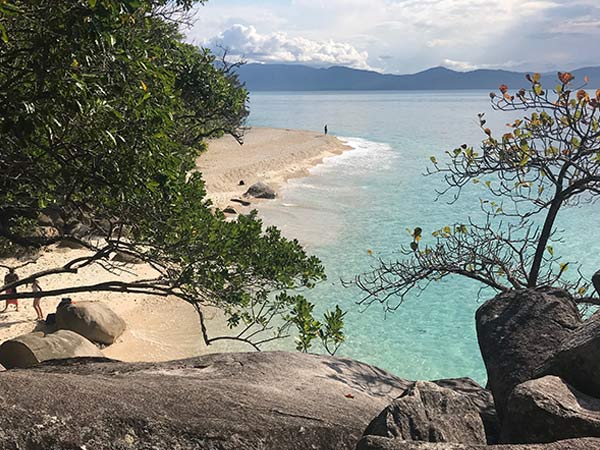 2. Pack well, but not too well (hello luggage fees!)
Call ahead and check what your hotel has available well in advance so you're not packing the kitchen sink. Depending on where you're going, you can probably buy anything you need there, so don't worry too much about forgetting things. And remember that you can always wash clothes (and may very well need to if you have a vomitron baby), so try not to pack too many outfits. I WOULD, however, pack as many different toys as you can – that stash will be invaluable.
3. Make (grand) friends on the plane
I won't steal my colleague's thunder here – he's written a brilliant article on everything you need to know about flying with babies. But what I will say from personal experience is to find the grandparents on the plane! They entertained our little bubba the entire trip (praise the lord) and Mackenzie just thought it was the best thing since Mumma's milk.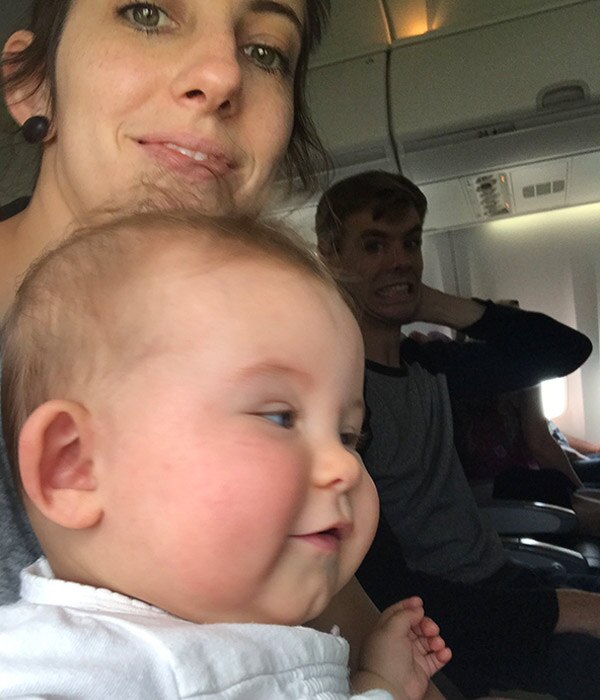 4. Choose the right hotel
Everyone has their own list of priorities – try to find accommodation that ticks your boxes. We looked for hotels with separate bedrooms and living rooms so we didn't have to sit in the dark every night once baby went down at 7pm (as fun as that sounds). We also looked for a kitchenette so we could prepare our own meals and sterilise bottles, an amazing pool with lots of shade, and a nice outlook since we knew we'd pop back to the room for Mack's sleep times. We chose the Oaks Resort Port Douglas, and Fitzroy Island Resort and were stoked with them both!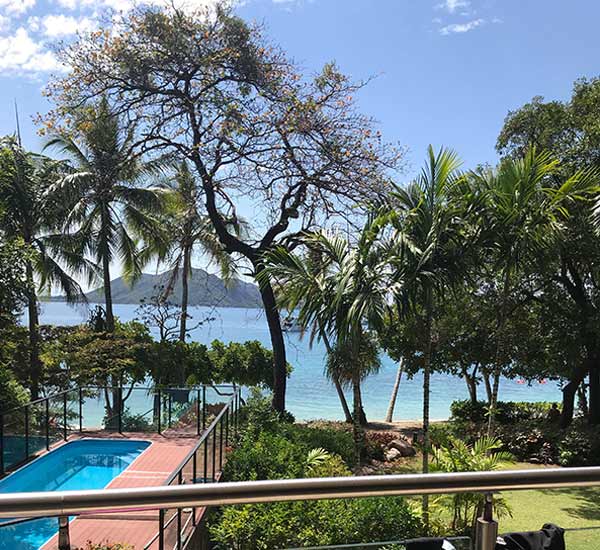 5. Prepare for sleep
Our baby doesn't enjoy sleeping in new environments. So to help with the transition, we started to sleep her in a portacot a few nights before we left. We also packed a blackout blind to help with the light – anything for a decent sleep, really 😊. In the end, Mack's sleeping pattern stayed pretty much the same on our holiday. I'm not sure how much our prep helped, but we'll claim it!
6. Be realistic
No longer will you spend your whole holiday sipping margaritas by the pool and reading the latest Liane Moriarty book. But setting realistic expectations for your trip will help you enjoy what you CAN do – like going swimming together as a family, walking along the beach and having midday naps while the baby sleeps! We changed our perspective early on to make the most of the new norm.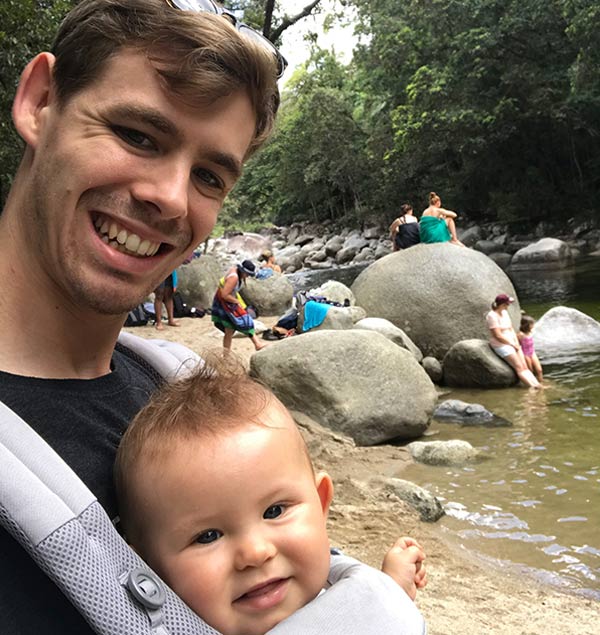 7. Just go with it
A phrase I'm sure you've mastered since becoming a parent! Being in a new place and experiencing so many things outside their normal routine can be overwhelming for a bub. If we couldn't do something because Mack was upset or having a bad day, we decided that just being together on holidays, having quality family time, was all we needed. Sure, we had a list of things we wanted to do. But if we didn't get to all of them, it wasn't the end of the world.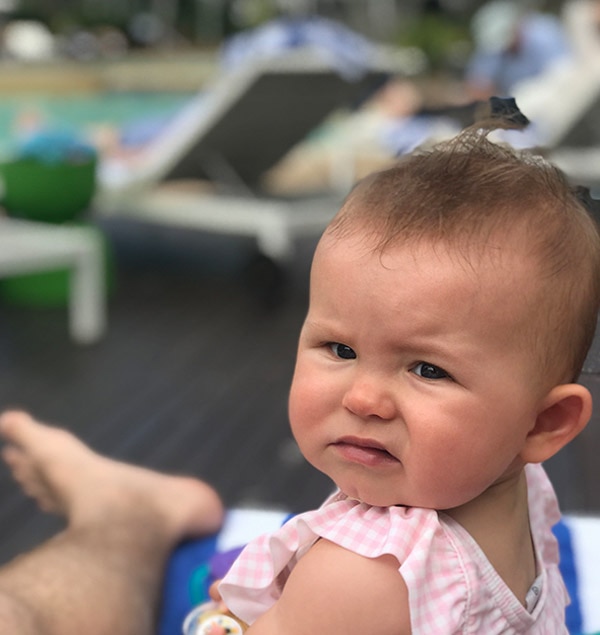 8. Enjoy the nights in, but also have some nights out
Because sleep had been such an issue for us in the first couple of months of parenthood, we naturally planned against any night-time disruption. But then we thought, "Stuff it, we're on holidays, let's test it!" So we had a few dinners out and pushed Mack's bedtime later… and surprise, surprise, it was totally fine! So live a little! It's a holiday, after all 😉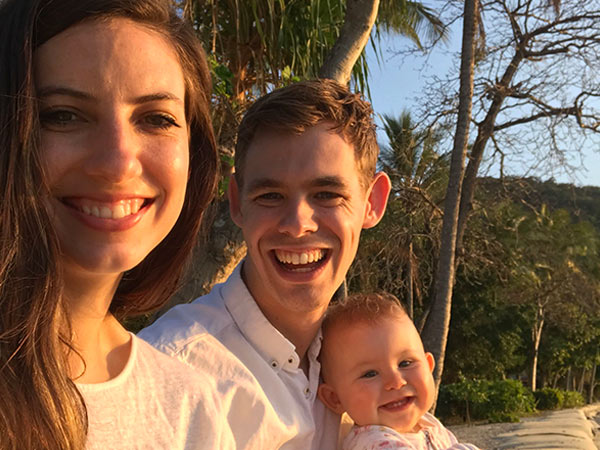 9. Lastly, don't worry about mistakes!
Maybe you forgot her favourite toy or didn't pack enough onesies. Don't stress – it's all a learning experience! Just try to enjoy the quality time together and the other little things won't matter as much. This is your last first trip together!
PLAN YOUR FAMILY GETAWAY